Ontario is one of the thirteen provinces and territories of Canada that is located in east-central which borders the US and the Great Lakes. Ontario is one of the provinces that holds 38% of Canada's population and is the second-largest province in total area. It is the home to the nation's capital city, Ottawa, and the nation's most populous city, Toronto which is Ontario's provincial capital. Thereby it is best suites to visit for a holiday or a business trip.
Listing down are the top 5 luxurious hotel that adds an essence while you make memories in Canada.
Four seasons hotel
Shangri- La hotel
The St Regis
Hotel Fairmont Royal York
Windsor Arms hotel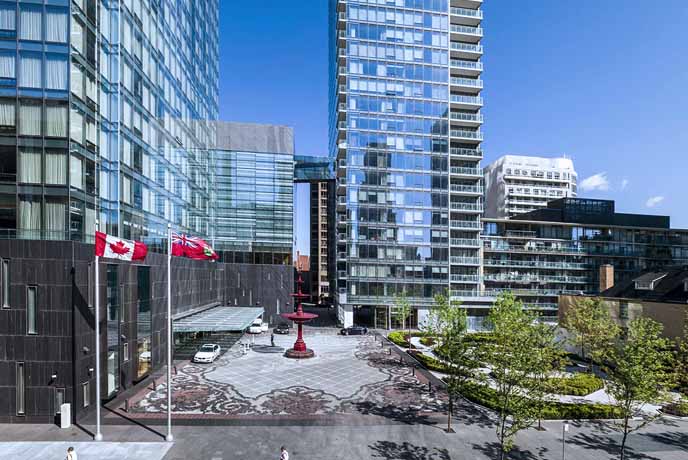 Four seasons hotels and resorts is a Canadian based company which opened their first hotel in 1961 and has a group of hotels all around the globe. For more than 50 years in the industry, they have a motto of redefining luxury for the modern traveler. Same way, modern design in the heart of Toronto awaits this luxurious hotel at Yorkville quarter. It is the first and only hotel in Canada to receive both the AAA five-diamond and Forbes travel guide five-star recognition. This property is huge and mighty with a 31 storey hotel tower. This is the longest operating four seasons property which has contains 259 rooms and 210 private suites. The suites price starts at C$ 624 per day.
One can enjoy the authentic French cuisine paired with one of their 350 wine labels at Cafe Boulud. This restaurant serves a seasonally changing menu rooted in the French tradition that highlights both bistro classics and contemporary dishes.
Nearby attractions – Royal Ontario Museum, Casablanca Loma, Queen's Park, Gardiner Museum, and Allen Gardens.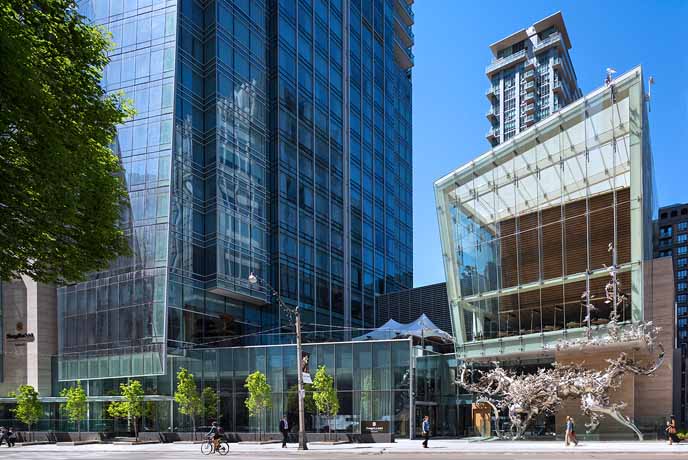 Shangri – La is a 5-star property that is located in downtown Toronto, Ontario. This hotel was designed by James K.M. Chengalvarayan and built by west bank projects corp. This building is of 214 meters tall and is one of the fifteen tallest building in Toronto. This property is located amidst the financial and commercial districts of Toronto and thus presenting a city view. Each room features a floor to ceiling windows and also offers an indoor pool and hot tub. This serene hotel holds 202 rooms and suites which is 45 sq. meter approximately. Standard rooms in Shangri – La hotel start from 355 Canadian dollars.
The In-house guest and diners can expect a modern Canadian cuisine that is made with seasonal ingredients that are available regionally. They also serve 24 hours for in-house guests. Their lobby lounge is an urban style living room through a two storey window to highlight paintings, sculptures, and Italian handcrafted Fazioli piano. The bar serves a five-star volume compendium of wines, cocktails, and spirits.
Nearby attractions – Miraj hammam spa, cake nightclub, come from away, Royal Alexandra Theatre and Toronto Symphony Orchestra.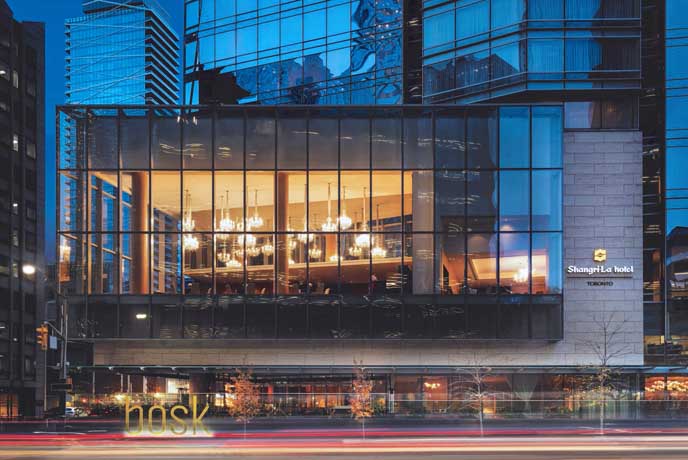 The St. Regis is one of the skyscrapers in Ontario, Canada. This hotel was built by Markham based Talon International Development Inc., which was owned by Canadian businessmen Val Levitan and Alex Shnaider. This tower has 65 stories in which 57 floors are occupiable. This mighty building is 900 feet tall that includes 260 luxury rooms and 108 residential condominium suites. The builders planned to connect the building to Toronto's underground PATH network, however later they dropped the plan because of high costs that is associated with tunneling under the city. St Regis is a stronghold of splendor, extending its rich lineage of the most highly desirable address in Toronto. They provide their guests and residents with a gracious resort-style living in an urban environment with a rare collection of authentic and meaningful amenities. St. Regis charges C$ 325 per day for their standard rooms.
Their exclusive restaurant named Louix Louis is a bit of french and a bit of American. Their dishes have a classical elegance yet simple and indulgent. This hotel also has some nearby attractions which are a not to miss when you visit Ontario. The Toronto Urban Adventures, Athens Elgin and winter garden theatre center, and four season's center for performing arts are some of those.
Nearby attractions- High Park, Nathan Phillips Square, Toronto zoo, Hockey hall of fame, and Ontario science center.
HOTEL FAIRMONT ROYAL YORK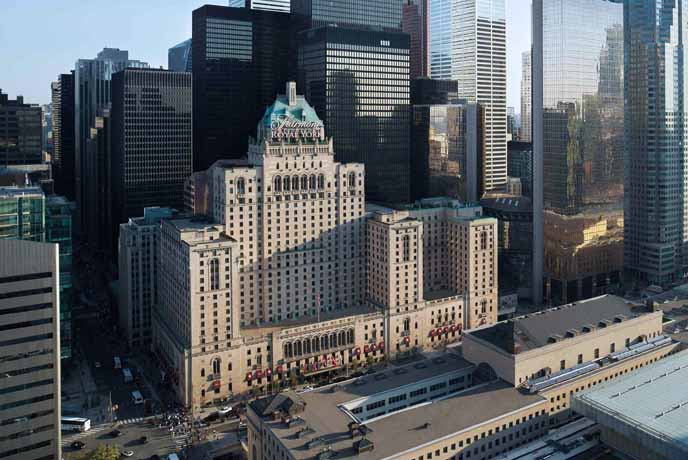 The Fairmont Royal York, commonly known as the Royal York, is one of the largest historic luxury hotels in Ontario. This hotel is located at the southern end of the financial district in Downtown, Toronto. The Royal York was designed by Ross and Macdonald, in association with Sproatt and Rolph, built by the Canadian Pacific railway company. The building stands 124 meters tall with 28 floors primarily made up of guest rooms and other hotel amenities. Initially, when the hotel was opened, it had 1048 guest rooms and suites. After which in 2014, the hotel expanded its number of rooms and suites, and now they have 1363 rooms in total. The types of rooms include signature and luxury and eight other types to suit their guest's expectations and needs. Apart from posh suites, this hotel features function rooms, conference rooms, ballroom and concert hall. Starting from C$ 274 is what Fairmont Royal Park charge for their executive rooms.
From seasonally inspired menus to dining experiences that satisfy your cravings. They have multiple restaurants and bar that includes REIGN restaurant, Benihana Japanese Steakhouse and sushi lounge, library bar, and piper's pub.
Nearby attractions – Ripley's Aquarium of Canada, Hockey hall of fame, Royal bank plaza, CN Tower, and Tour to Niagara Falls.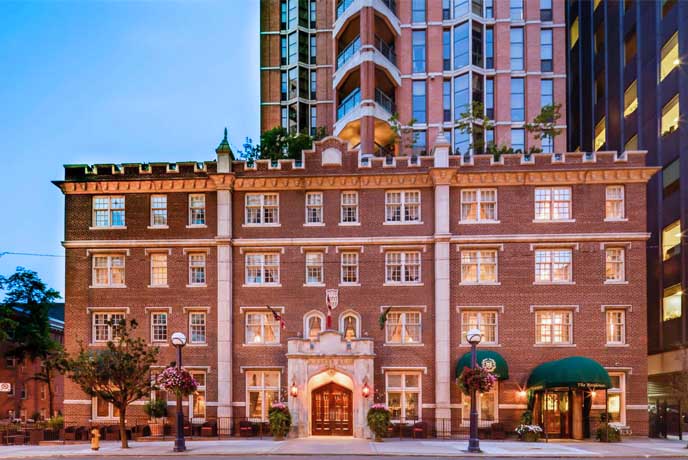 The Windsor's arms is a boutique hotel in Ontario. It is located in the Yorkville neighborhood. This is one of the skyscrapers which includes condominium suites, deluxe rooms, courtyard cafés, and a spa. This neo-gothic style building was designed initially by architect Kirk Hyslop of Toronto and later it was rebuilt while maintaining the St Thomas street facade. Their spacious suites are designed and furnished to become your home away from home with featuring all the services and amenities. Choose whichever suite matches your taste and need, but do not forget to enjoy an afternoon tea in the legendary tea room and pampered in the full-service spa. Their amenities also include a salt cave and saltwater pool.
The Windsor's arms have 28 exclusively luxurious suites ranging from 500 to 2000 sq.feet. The rooms include musical instruments like grand pianos, acoustic guitars, and harps. The pricing starts from C$ 324 per suite based on availability and demand. They serve exclusive dining options where you can indulge your taste buds. The Gatsby bar is a seasonally inspired, electric and expansive menu with over 700 label wine list, local craft beers, and inventive cocktails. Every Sunday they welcome for a majestic and delectable Sunday brunch.
Nearby attractions – Spadina Museum, 3D Toronto sign, Philosopher's walk, Berczy Park, and HTO Park.
Similar articles: