Heading to Miami for your vacation? Plan your itinerary with daily spending at the beautiful beach in the evenings. Miami is famous for many things and hence it is not a surprise that hits the top of many people's destination wish list. For a lazy day while you are in Miami, head to south beach, and soak up the sun before deciding where to eat dinner. Eating in Miami is a culinary delight, pick up the best waterfront restaurants, where you can relax and enjoy your food with a sea view.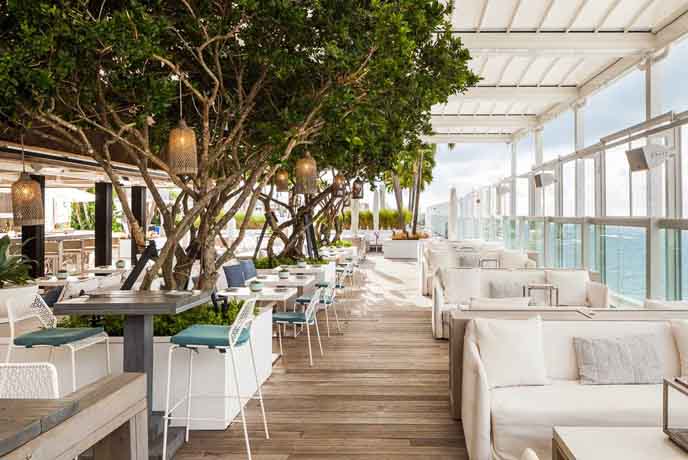 The restaurant at 1 Hotel South Beach is one of the most luxurious and fantastic rooftop terrace restaurant in Miami. It is located on the 18th floor, which offers a wonderful and serene ocean view. One can enjoy their rooftop pool, sky-high rooftop bar along with the restaurant. The restaurant is named "Watr" because wherever you turn around from this restaurant, you end up seeing only the ocean. The entire hotel is surrounded by water and hence the name of their restaurant. This restaurant specializes in Peruvian influenced Japanese food and also serves an exquisite seafood menu. Their signature dishes include tasty sushi rolls, Charred Octopus to the Watr burger, Lobster roll sushi, chicken yakisoba noodles, steak salteado. You can enjoy your food along with organic wine, handcrafted cocktails, frozen drinks, draft beers. This rooftop serves great ambiance and revives your soul. The right time to visit them is at late night or for dinner. Perhaps, it is open for public only after 6 pm and for in-house guests, it is available for lunch and dinner.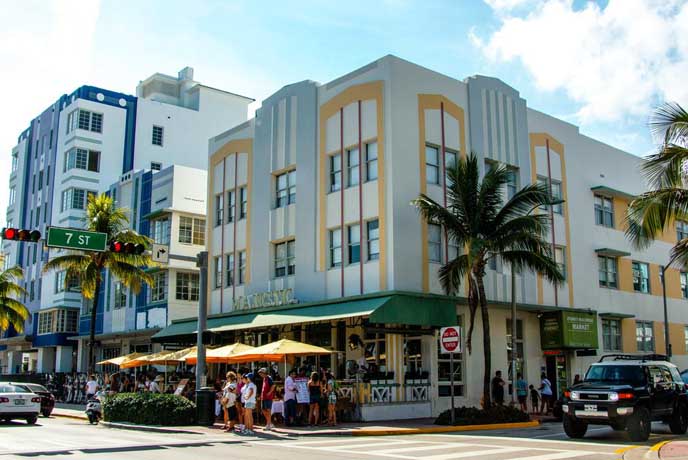 On ocean 7 cafe is a specialty restaurant at the Majestic hotel located on the South beach, Miami. This restaurant serves great varieties of breakfast, lunch, and dinner spread. You can opt for dining at the terrace, sidewalk, and lobby. Their signature dishes for breakfast include omelets, pancakes, french toast, eggs Benedict. The lunch and dinner menu include salads, pasta, pizza, wraps, and sandwiches. They are also specialized in Italian, Latin, and of course, seafood, as they are located by the seaside. Ocean 7 is specialties with their oversized signature tropical drinks, which I am sure that nobody can pass up without trying them once. Ocean 7 is generally cozy and welcoming, where you can also treat your ears with some great music. So what are you waiting for? Enjoy their signature food, specialty drinks from the menu with a great view of the ocean on a lovely evening in Miami. 
Smith & Wollensky- Miami Beach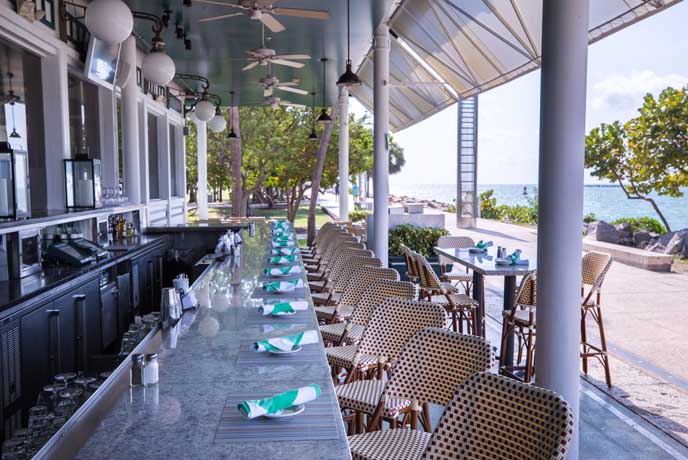 Smith and Wollensky is a typical restaurant at the South beach, which is one of the favourite restaurants amidst the locals and frequent visitors of Miami. This restaurant recently celebrated its 20 years of completion on the South beach. They have also renovated the entire restaurant inside out with modernized dining, event space, and culinary products. Also, they have also expanded their indoor bar, lounge, and a brand new overlook deck, where you can experience the serene beauty of the sea. Also they have constructed a second-story terrace that features breathtaking views of south pointe park, government cut, Fisher Island, and downtown Miami. They can hold up to a capacity of 650 and a group capacity of 300. They also feature outdoor dining. The sigma dishes at the Smith include Filet Mignon and crab cake. However, this restaurant boasts for its Signature best prime dry-aged steaks and this place is also one of the best steakhouses in the town. So if you are a steak lover, then this restaurant is your best choice. Enjoy your steak with your favorite crafted cocktails from the menu.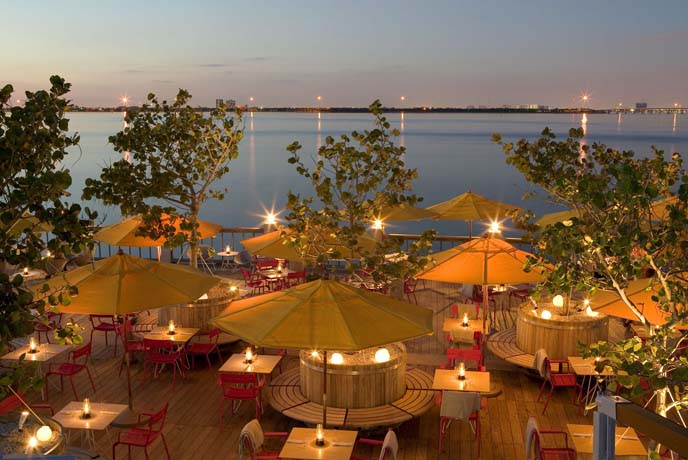 The Lido restaurant and bayside grill located at The Standard Spa, Miami Beach. This restaurant is specialized in Mediterranean cuisine where you can enjoy your food by the bay, which is cooked healthy, wholesome, and natural. Their food on the menu is gluten-free and so you can have a guilt-free, luscious breakfast or refreshing dinner at Lido. The menu is guided by locally sourced seafood and seasonal farm produced. This restaurant has a wide variety of chilled dishes, fried options, extensive raw bar, a steamed selection, and their signature expertly grilled dishes. Their other signature dishes are sandwich fried chicken, chocolate cake salmon poke, and seaweed salad. The visitors and localities also confess that these are their favorite at the Lido. While you visit Miami, don't forget to try these at this Mediterranean restaurant. The best time to enjoy your food is during the sunset. The impeccable sun-kissed experience along with some good food on your table would be the best combo.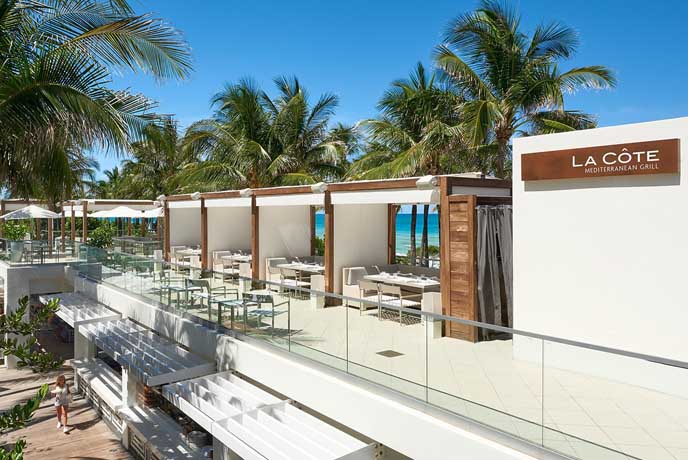 La Côte is a flavourful french cuisine, two-decker restaurants that are a part of the Fontainebleau hotel. It has a view of the beach and a swimming pool. This poolside restaurant has a relaxed environment that is apt for a casual dinner. The open-air restaurant on the upper level has a view of the pool and ocean, also you can enjoy their lively DJ inspired bar scene with their specially handcrafted cocktail range, classic wines, and tapas-style snacks. Their signature dishes include grilled octopus, garlic shrimp, frozen margarita, chocolate dessert with the gold leaf are a must-try when you visit La Côte. If you are a music lover then do not miss their DJ bar scene alongside fashionable cocktails prepared by their top-shelf bartender, some fascinating dish from the menu, and some exotic desserts. The upper deck, which is open to the air is open only during the daytime, where you can sit back at their white lounge furniture, enjoy the sea breeze and the palm trees.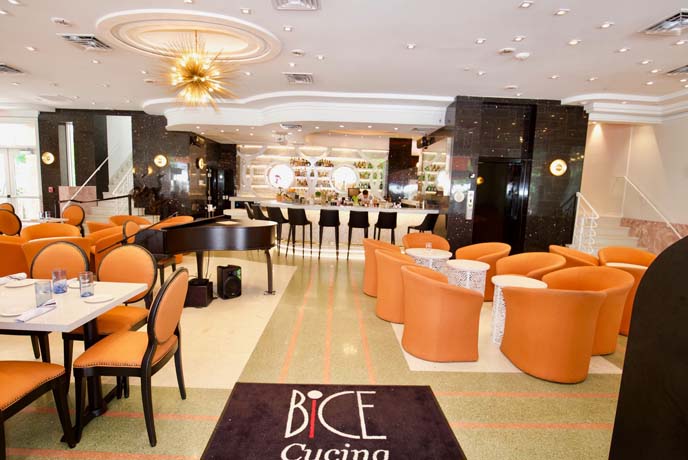 The Bice Cucina restaurant specializes in fine Italian dining. This restaurant was established in 1926 among the busiest roads of Miami Beach and the most renowned northern Italian restaurants in the United States. You can have an outside dining or in-house dining. Their go-to classics include caesar salad, lasagna, lobster ravioli with delightful rose sauce. These are the people's favourite orders from the menu. They like it along with a nice glass of house chianti or any other handcrafted cocktails or wine. Other signature dishes are Taglioni lobster, Ravioli Massaia, Ossobuco, and Pappardelle al Telefono. You can feel the chef's incredible skill in blending northern Italian and American cuisine with an uncompromising touch. This Italian dining is found amidst the south beach on ocean drive with a panoramic sea view which is perfect for friends or family to enjoy your evenings with some good food and live music.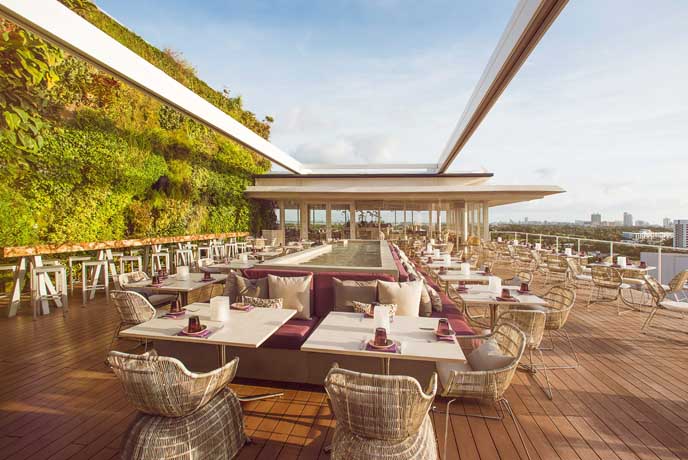 Juvia is a rooftop restaurant, located at Lincoln Road on Miami Beach. This restaurant specializes in all international cuisine. Juvia serves amazing sea views of Miami Beach. The white interior and lush vertical garden fuse modern-chic vibes with trendy elegance. Our top-notch chefs create harmonious blends of Asian, South American, and French cuisine. Korean marinated short ribs and joue de boeuf and pea risotto on their dinner menu. Their meals offer three courses paired with bottomless mimosas, Bellinis or prosecco. Their menu includes both breakfast and lunch oriented plates starting with a choice of salad which includes avocado, tomato, and Hawaiian hearts of palm, pink shrimp, acevichado, beef carpaccio or granola with yogurt, fresh fruit, and honey. The main course has the following options from which you can opt one – smoked salmon eggs Benedict, branzino a la plancha, truffle spinach mushroom quiche, or grilled skirt steak. Finally indulge in your dessert choice of hazelnut lemon bar or chocolate tart. You can opt for this three-course meal for $50 per person. A creative cocktail menu handcrafted by our bartenders goes well with any of our food menus.