Miami Beach is the 26th largest city located in Florida, United States. It is a coastal resort city and has a population of 92k and comprises a total area of 18.7 sq.miles according to the most recent United States census estimates. Miami Beach is one of America's preeminent beach resorts since the 20th century. Most Americans prefer to go on a holiday to Miami Beach and undoubtedly it is the most beautiful place to visit if you have any plans to travel to the United States. This article gives you the sneak peek of some of the top resorts and hotels to spend your stay during the visit.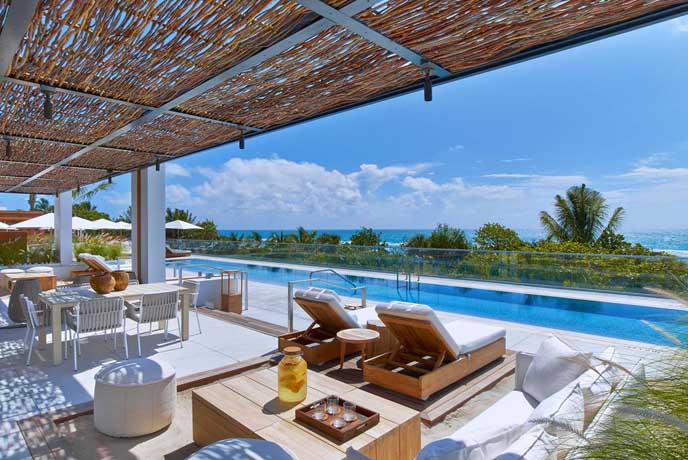 This hotel is one of the famous properties in Miami Beach. It is also a historic landmark oceanfront hotel that exhibits the beauty of the 600 feet beach along the Atlantic Ocean. This resort holds a total of 426 rooms, where you can celebrate nature. Their room classifications include King, Junior Suite, Queen, Oceanview, Studio suite, Ocean front suite, Penthouse, and Retreat collection suites.
The average size of each room starts at a minimum of 700 sq. feet up to 3000 sq. feet. This resort possesses 4 outdoor swimming pools, including South Beach's largest rooftop swimming pool and lounge. Their other amenities include a refreshing spa facility where you can relax and experience rejuvenation and nature around you.
For kids, they have a "Seedlings" club which invites children to experience and learn new things with fun. Pets are most welcomed at this resort which is an added advantage for pet lovers and pet owners. 1 Hotel South Beach won the Condé Nast Traveller's 2019 Reader's Choice Awards too.
This hotel is ideal for food lovers who love to discover new cuisine and new taste. This hotel has 7 different types of in-house restaurants that are designed to serve according to your taste buds. The restaurants are named as follows – Habitat, Pinthouse, Watr at the Rooftop, The Sandbox, Neighbors, Drift, and Wave. Most of the restaurants feature a waterfront view and rooftop view where you can relax during late evenings. 1 hotel South will never disappoint you in terms of food and hospitality, you can give it a try when you travel to Miami.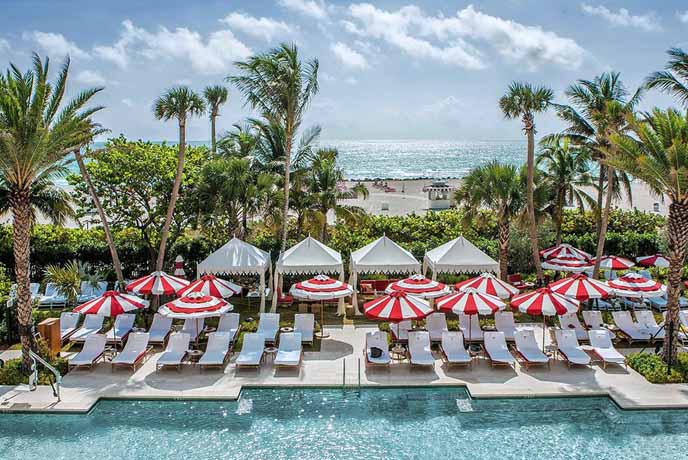 Faena Hotel is yet another benchmark of the Miami Beach for hospitality. Owned by Alan Faena and designed by an award-winning film director and producer Baz Luhrmann and costume designer Catherine Martin. The specialty of this hotel is its curated amenities and attentive services which enhances the stay and overall experience in every possible way. Faena is also the first independent hotel to achieve the prestigious "Forbes Five Star Luxury Resort" within one year of functioning. Faena hotel features 179 guest rooms and suites. Bay view suite, Imperial suite, Saxony suite, Oceanfront suite, Premier suite, Penthouse are some of its types where we can choose according to our choices and preferences. They also throw multiple stay options and offers which will be pocket friendly if you look out for a longer stay. This hotel also features an outdoor pool and South American inspired spa with massage, nail care, and salon services. Their fitness center has a waterfront view that offers daily indoor and outdoor classes.
Veranda, their in-house restaurant is one of its kind where you can enjoy a relaxed meal with some handcrafted cocktails with the view of the mighty ocean. This place is great for late-night dinners and parties. Pao is specialized in Asian cuisine with international influences. Freshly farmed veggies and meat which are locally grossed make their dish Ben more special. There are also some interesting tourist spots nearby and this hotel will meet up your expectations and give a serene experience and a bundle of good memories to take back home.
Carillon Miami Wellness Resort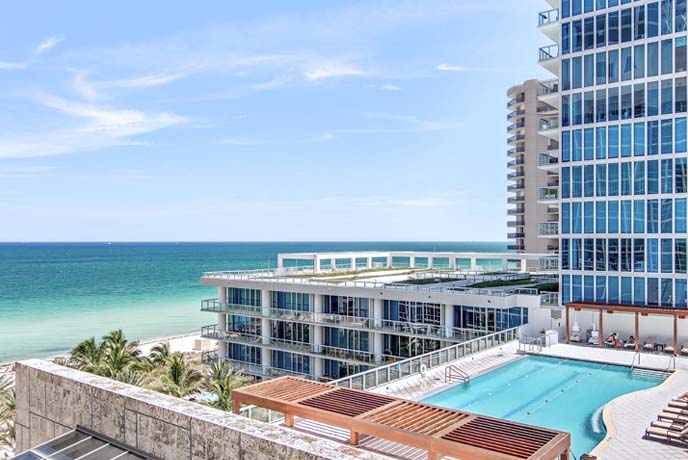 The Carillon Miami Wellness resort indulges you with a great experience and rejuvenation and hence it is named as a wellness resort. They have the largest spa and wellness facility situated by the beach. The wellness area is spread out across 70,000 sq. feet offers the best in class luxurious treatment for your mind, body, and soul. The Spa wellness experts specialize in thermal experience, medically focused treatments, and traditional spa through cutting edge treatments. Witness our best thermal treatments which mirror European wellness traditions by using the restorative properties of water to promote the body functionality. This resort features a total of 150 one-bedroom and two-bedroom fully furnished apartments with an inbuilt kitchen, living room, and spa-like bathrooms. You can witness the beauty of the beach through the ceiling to floor open glass windows that offer you an awesome breathtaking view of the Atlantic Ocean or the Miami skyline. King bed, balcony view, Queen bed, Oceanfront view, City view are some of the classifications of One bedroom and two-bedroom apartments where you can choose according to your choice and convenience.
While coming to the dining options, this resort offers 3 types of in-house restaurants which also include the Strand bar and grill. Food prepared with local ingredients available makes it healthy and presentable with high integrity. "The Strand" offers a contemporary Mediterranean dining experience which you can enjoy with their specially handcrafted cocktail. "Seaglass Cafe" comes with an idea of relaxing and snacking alongside the Cabana pool. "The Corner Store" is ideal to enjoy your coffee or any healthy fresh-pressed juice alongside some light bites.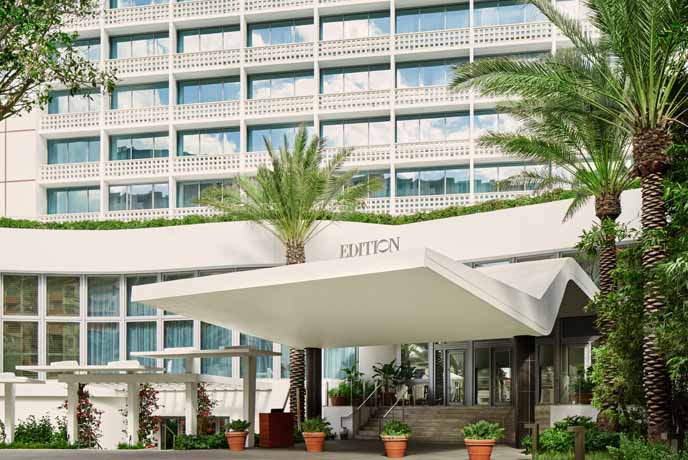 The Miami Beach Edition is one sophisticated and luxurious accommodation in a beachfront setup, amidst the Miami Beach. This hotel is ideal for a splendid experience and entertainment. They have a vast indoor and outdoor setting which is ideal for events, meetings, and weddings. The Miami Beach edition features 294 guest rooms, suites, bungalows, and penthouses. Their bi-level bungalows add an extra sense of privacy along with its plunge pools and terrace, giving you the next level comfort and luxury to your stay with The Edition. Other classifications of rooms and suites include Standard King, City view, Deluxe, Oceanfront, Oceanview Suite, Bungalow pool view, Loft Suite, Premier Suite, and Penthouse Suite. This hotel also features 2 outdoor pools, skating rink, petite spa, bowling alley, nightclub, and fitness center. There is also an outdoor movie theatre, where the in-house guests can enjoy their movie nights. Bars and Cabanas are offered by the poolside.

Matador Room is one of the restaurants in The Miami Beach edition. This restaurant is specialized in Latin American cuisine. Their innovative dishes served on the table by Chef Jean Georges Vongerichten must try when you stay or visit this hotel. The Matador Bar holds a variety of customized cocktails and handcrafted beers which you can enjoy with your friends and family during the late evenings and weekends. Tropicale is again a casual dining restaurant that is set up along the iconic pool. The Basement bowl is a unique four-lane bowling alley that mixes fun and delectable dishes.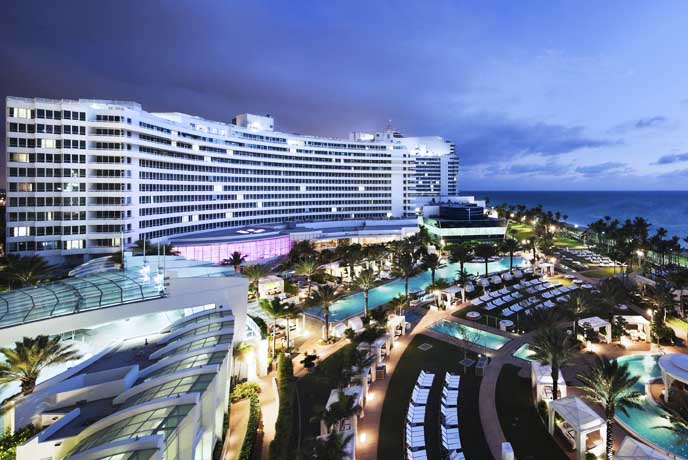 Fontainebleau is one of the top historic hotels located at Miami Beach with an oceanfront view. This hotel is architecturally significant amidst all others, it's iconic design has a splendid blend of Miami's golden era and stylish modern latest touch. This hotel functions more than half a century alongside Miami Beach which sets a new standard for business and pleasure stay. A landmark since 1954, Fontainebleau has been restored and transformed by a team of architects and designers to create the most dynamic destination on the seaboard. This hotel is built upon a land space of about 22 acres and also features its two-story spa which comprises 40,000 Sq. feet. A virtually endless poolscape and nightlife venues are the catch points of this hotel. This hotel features 6 outdoor swimming pools with private cabanas, a nightclub, and 9 in-house restaurants. To start each day with shimmering views and refreshing ocean breeze they offer different types of accommodations which include guest rooms, junior suites, specialty suites, and two-bedroom suites.
A wide range of cuisine across 9 restaurants are available here to respond to your taste buds and cravings. Chinese, Italian, Japanese, and continental are some of their signature cuisines where the food is prepared and served by our expert chefs with all fresh and locally sourced ingredients which give a twist and touch of freshness. Oceanfront dining at La Côte is a not to miss for your dinner and enjoy your coffee and cakes at the Chez Bon Bon. Undoubtedly, the Fontainebleau is a benchmark for all luxurious hotels in terms of standards and hospitality.