Over 90% of Kyrgyzstan is covered with Rocky Mountains that hold adventures for outdoor enthusiasts such as you and I. This landlocked mountain terrain has got to be one of the least talked about, out of the 195 countries on the world atlas.

Though it is hardly ever traveled to, you will be surprised as to how many travel styles and appetites this beautiful country can cater to. It is immersed in the culture, adventure, and all things that are guaranteed to be worth both your time and your money. Kyrgyzstan is home to a traditional nomadic way of life and hunting traditions that include golden eagles, falcons, and Taigan hunting dogs. Quite frankly to me it looks a lot like a central Asian version of the game of Thrones. I kid you not! The resemblance is indeed uncanny.

Here is a list of Things to do, See and Eat during your holiday in Kyrgyzstan:
01. Trek the Tian Shan Mountains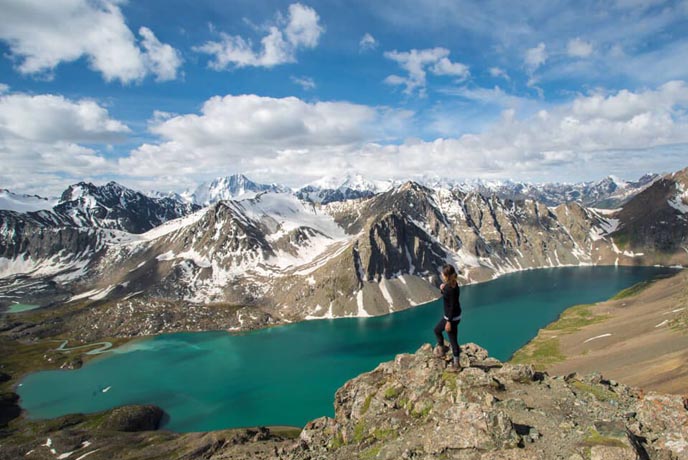 Yes, your holiday is bound to involve lots and lots of rock.
The Tian Shan Mountains cover most of Kyrgyzstan and has mountain ranges with heights that reach over 7,000 meters. It is a haven for adventure travelers and trekkers who can disconnect from everyday life and embrace the serenity of the highlands. With ample landscaping for mountain hikes and multi-day treks, it comes as no surprise that it receives a large community of visitors who are also privy to the nomadic lives led by the shepherding families who are more than happy to show you the ropes of living in harmony with nature.
More trekking regions and routes: Salkyn Tur, Kol Suu Lake, Altyn-Arashan, Ala Kol, Skazka, and Jeti-Oguz.
02. Explore Lanes of the Osh Bazaar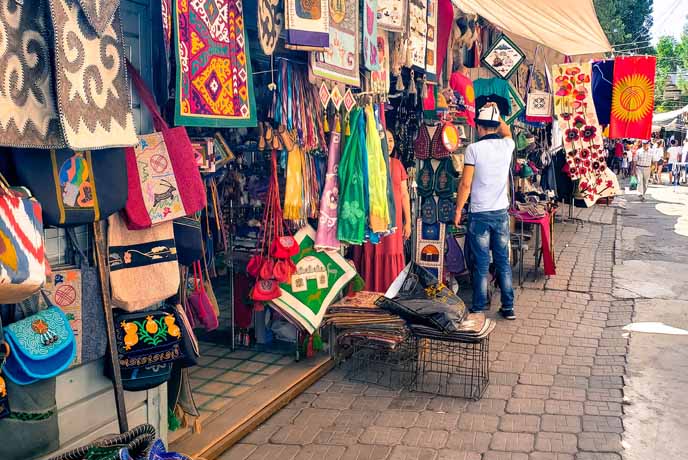 Once a glorious Silk Road trading center, Osh Bazaar is a living testimony of a history that dates back to 2000 years. Its lanes are the best place to appreciate the ethnic fusion of a nation that has been able to preserve much of its heritage and age-old traditions because it is overlooked due to the attention drawn by intimidating neighbors such as China. Having attained sovereignty from foreign domination in 1991, Kyrgyzstan continues to fight its way up to ensure a good life for its population of six million that comprises of many from Uzbek and Tajiks communities in addition to the majority of the Kyrgyz.

The bazaar that has an array of spices, dried fruits, and nuts, fresh produce, dairy products is not just a market place but a source of information and education to anybody who wants to look past the hustle and bustle of the stalls and vendors.

More bazaars to visit: Bugu Bazaar, Karakol and Naryn's central market.
03. Taste a Glass of Fermented Mare's Milk (Kymyz)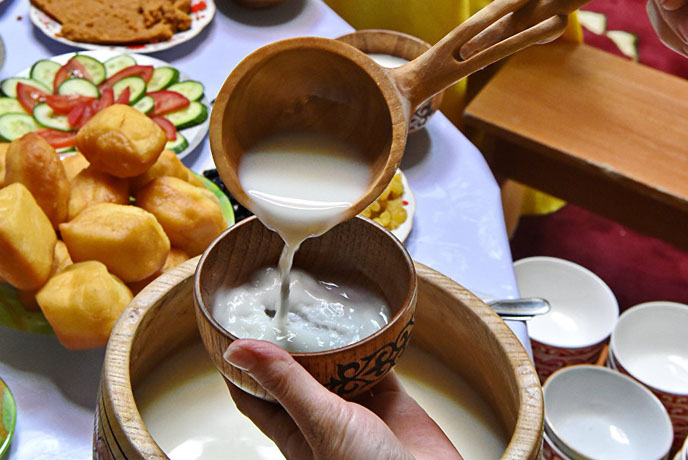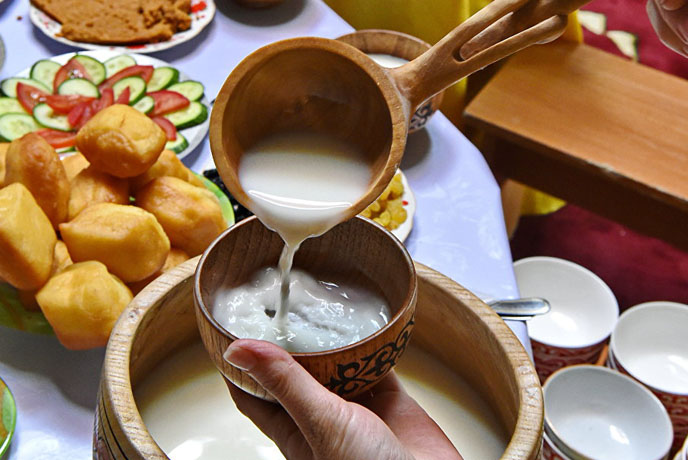 Kymyz or fermented mare's milk is Kyrgyzstan's beloved drink. For you and me, it is Fizzy milk, with a bit of tang but for the locals, it is the best thing ever. If you ever to brave the drink, make sure to drink in small quantities for you to be able to absorb the fermentation. Kymyz is celebrated in Kyrgyzstan to the extent that there are even spa-like health and wellness experiences that have treatments that involve exclusive kymyz treatments that come highly recommended by the natives.
More local dishes to try: Kuurdak, Oromo, Horsemeat, and Gok chuchvara.
04. Watch a Kok-Boru (Goat Carcass Polo) Match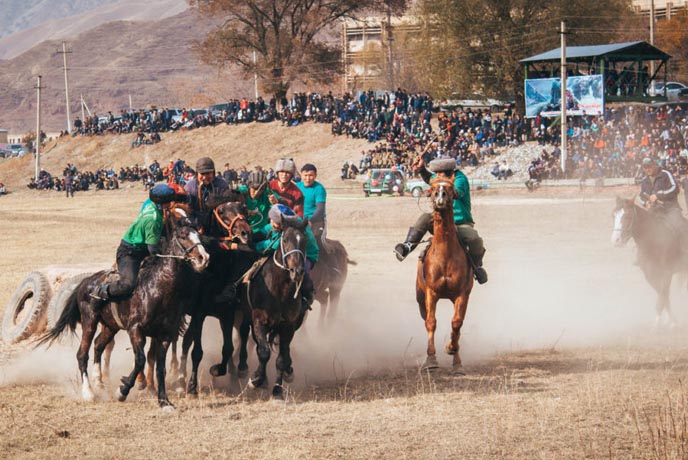 Goat carcass polo (DEAD GOAT POLO) is Kyrgyzstan's national sport, played with a headless goat. It is a fast and intense game that is opted for during the warmer months. Kok Boru is played in long, flat pitches alongside the rivers. The players casually refer to it as mere football on horseback.
More sporting events to look forward: Football, Wrestling, and Ice hockey.
05. Attend the Olympics of Nomadic Sports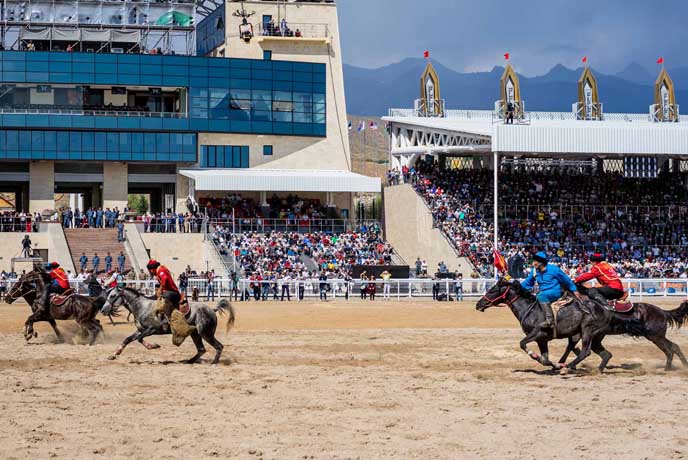 The World Nomad Games takes place every two years during September. Many of its events involve horseback riding such as Wrestling on horseback, goat carcass polo (Kok-Boru), hunting with golden eagles, and archery on horseback. If you are not big on the sporting aspect of the event, you can enjoy the cultural segment of the occasion that has colorful displays of traditional costumes such as nomadic warlords in their suits of amour.
More festivities to attend: Kyrgyz Kochu Festival, Navroz Spring Festival, and National Horse Festival.
06. Enjoy Kyrgyz Hospitality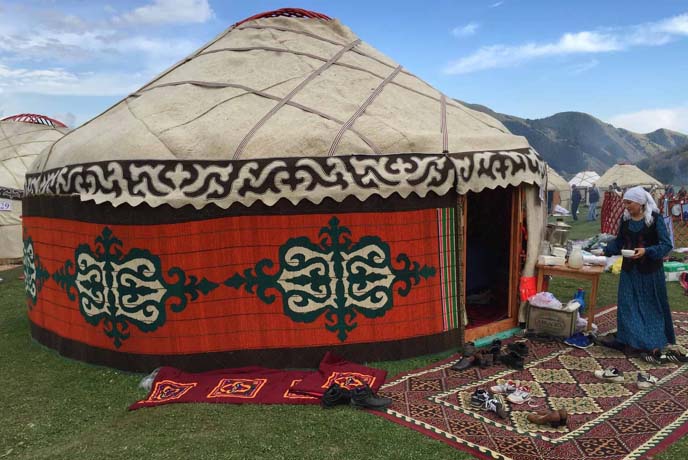 In Kyrgyzstan, it is not strange to receive dinner invitations from strangers. Kyrgyz people take pride in their hospitality. They like to engage and ask questions to understand how their life differs from yours. Be it lunch, a quick drink, or just a chat of a few minutes, their intent is most often genuine. Also, it might be nice to experience their life in its most organic state, sharing food in the comfort of their yurt.
More Kyrgyz traditions to engage: Traditional Kyrgyz weddings.