In India, food isn't merely a constituent of nutrition and sustenance. It is a comprehensive art in itself and is conducted with great respect that stems from a sense of religious fervor. This you will observe when you visit the rural parts of this enchanting land which is home to many surprises not just because of its amazing food but also because of its general adaptation to life.
  
The appreciation for Indian food extends beyond observing what is served, it is typically a feast meant for your eyes along with your taste buds as it comprises of complementing colors, textures, and aromas that are unique identity of Indian cuisine. India consists of an extensive area of land and this results in many regional cooking forms that are inspired by locally farmed spices, herbs, vegetables, and fruits. Indian food is also heavily influenced by zealous religious beliefs that encourage a plant-based diet, centauries of the Moghul rule that introduced meat into its equation, and the trade relations with the west that has added a twist to it all.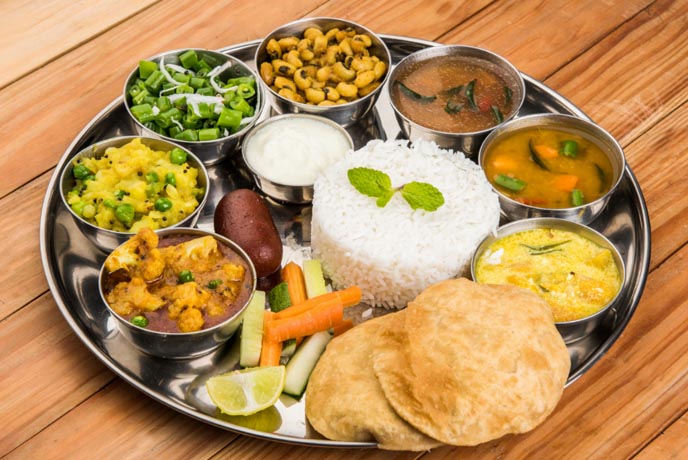 Technically, the Thali is not an actual dish but is a collection of foods that comprises of a sweet, few vegetable curries, dal (lentils), steamed rice, pickle, one form of Indian bread (puri/naan/chapatti), papad (poppadoms), buttermilk, raita (a side of yogurt) and one or more chutneys (relish). The literal meaning of Thali translates as "plate". Rightly so as all of the above makeup for a plate that is a typical Indian meal. It is a great way to dip your toes in the waters of Indian cuisine as it allows you to explore almost all varieties of it that is there to try.
Biriyani and Indian flatbread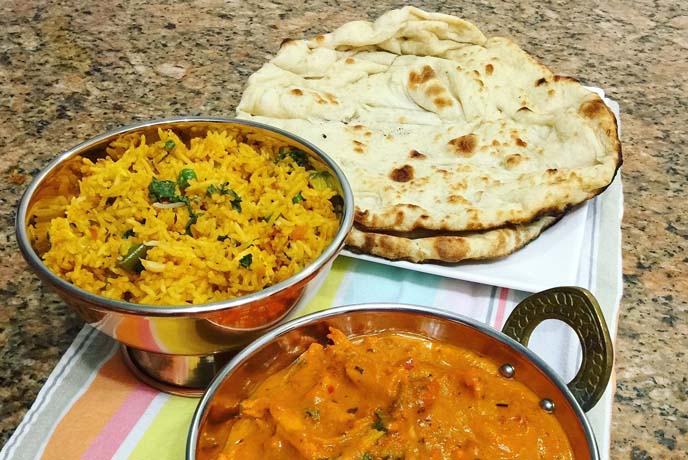 Roti, Naan, Chapathi, Paratha, and Puri, are staples in any given Indian meal. If you have ever dined at an Indian restaurant you are sure to have had a go at these, at least the versions of it available in the part of the world you are from. So why not try the authentic forms of it in its birthplace India that will have you asking for more? Though whether Biriyani is typically from around here is debatable, it most definitely stands out from the form of it available in the Middle East and is full of flavor nonetheless.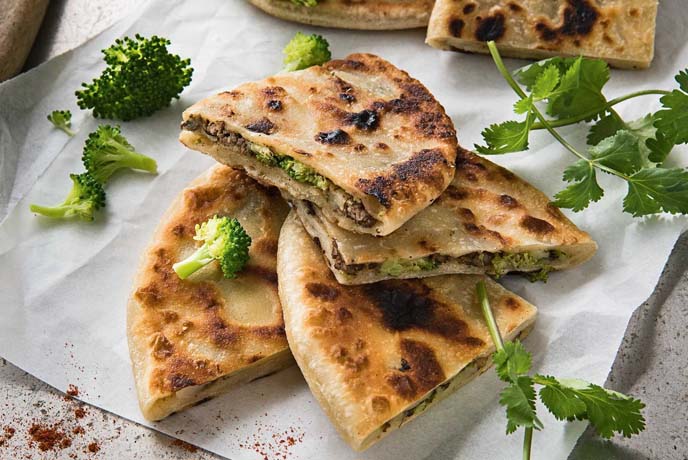 Stuffed parathas are India's all day, every day kinda deal. This is considered breakfast, dinner, lunch, and is even a popular snack. I believe this is an attempt to keep pace with the demands of a typical weekday and a creative way of dodging the mess of a sit-down meal. This on-the-go version of the Paratha includes a simple yet delicious stuffing made from potatoes, cauliflower, cabbage, paneer (cottage cheese), or any favored vegetable.
P.S – It is also a great way to repurpose leftover curries from dinner.
Desi Meetai (local sweets)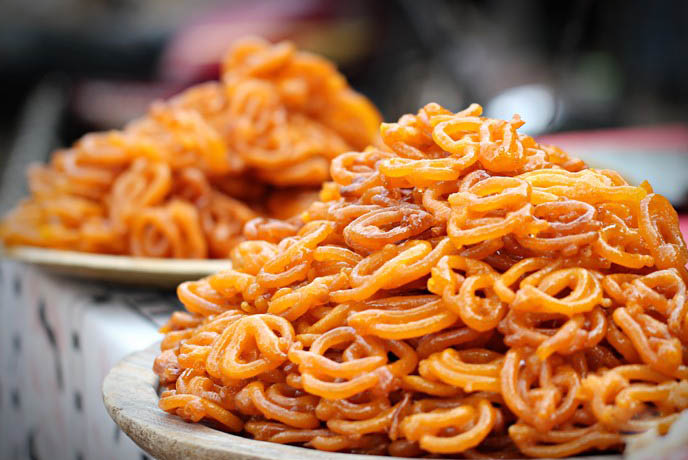 Jalebis, Jamoons, Gajar ka halwa, Rasgola, and Laddo are the big guns of Indian confectionary and have an ardent following of close to 1352.6 million (population in India). 
They are a great start to understanding how much passion goes into cooking a great Indian dish as they are exemplary illustrations to all the great things about the food in India. Sweets are a big part of Indian culture. It is customary to partake in sweets before any auspicious deeds and also be offered to friends and family upon receiving good news such as an announcement of a birth, wedding, etc. Made with a lot of love and loads of milk or ghee along with nuts and fruits, these Indian desserts are a haven for all those with indulgence for the sweeter things in life.
The great Indian beverage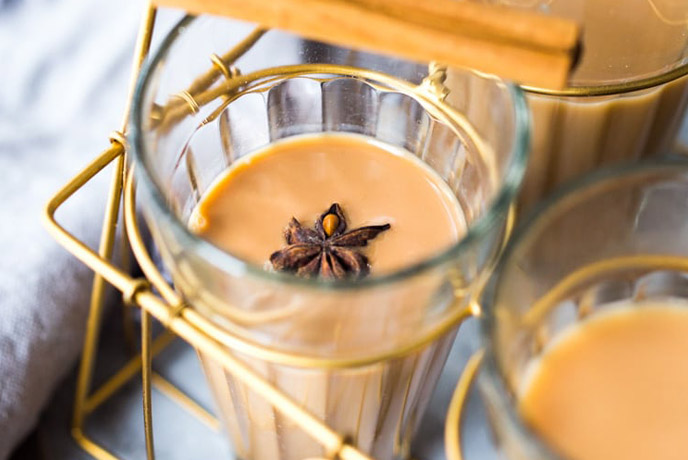 Nothing beats a masala chai at the end of a busy day. By brewing a mixture of spices and herbs with the typical black tea, the whole experience of drinking tea is elevated to the next level and is a staple in all Indian households and restaurants. Similarly, Lassi, a favored drink made from yogurt with versions of it in different flavors, is much celebrated and served chilled to beat the heat that is no stranger to India.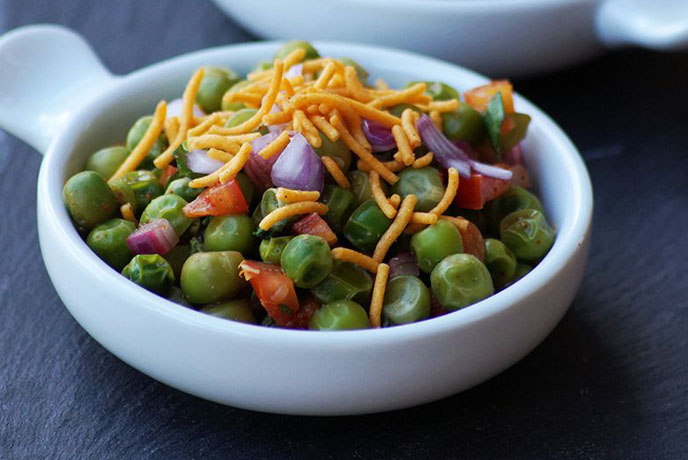 Chaat is a great snack for tea time and complements the masala chai perfectly. It is a popular street food that is available in every nook of the corner of the galis (streets). The most popular chaats include Pani Puri, Bhel Puri, and kachori which comprises a base of puffed rice served with peas, vegetables, and the spices that are the secret to the finger-licking goodness of chaat.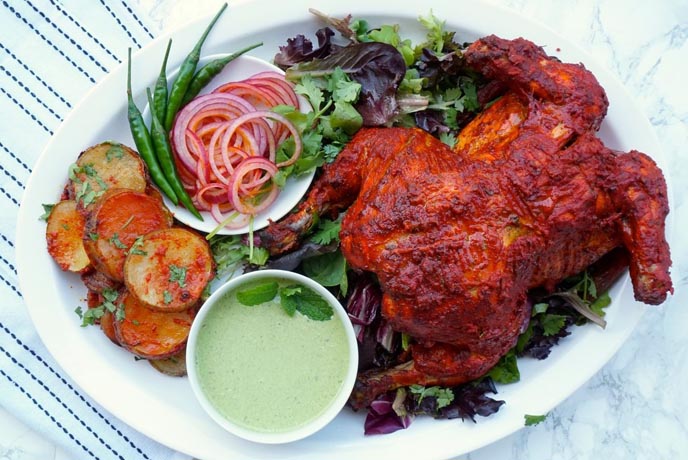 What is not to love in barbequed chicken that is loaded with the goodness of freshly churned curd and Indian spices?

Traditionally cooked in a clay oven that infuses that smoked like the taste, this a celebrated dish that is well accompanied with both flatbreads and rice alike. It also serves as the base for additional dishes such as butter chicken, another favorite on the menu.
There is no holding back when it comes to Indian food. Baturas are deep-fried round Indian bread made of white flour. Chole is the side dish prepared with chickpeas. Together they can be quite a heavy meal but that doesn't stop them from being a welcoming treat during any part of the day.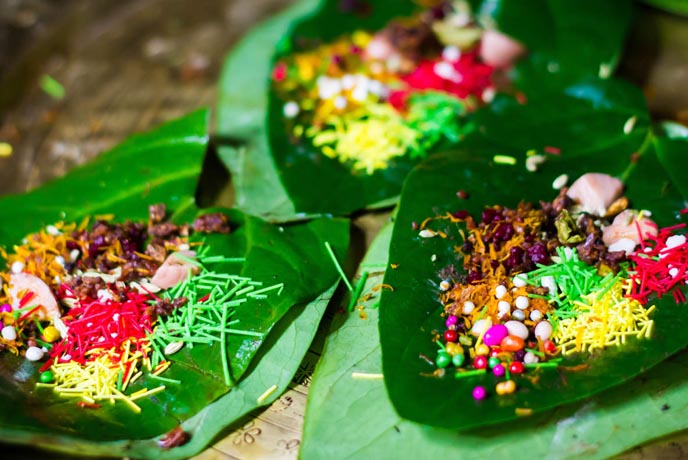 Paan is very popular not just in India but in all south Asian countries. It is a stimulant made of betel leaves and other locally sourced accompaniments that go well together. Though it might not be your usual cup of tea, giving it ago will surely be a novel experience and a shot at living the typical Indian life.
Idli sambar (steamed rice pancakes)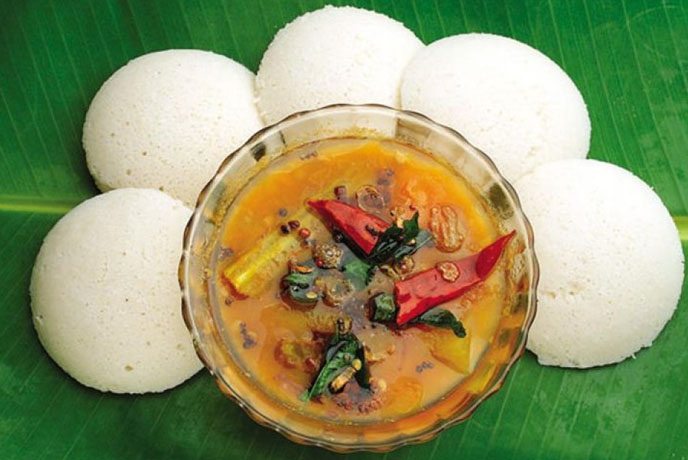 This is mostly featured in south Indian cuisine and is rather light in contrast to its north Indian companions. It is fortified with great nutrients from the vegetables that go into the making of sambar that accompanies the Idli, made a batter of fermented rice flour and black gram.