I am tempted to say that Sri Lankan cuisine is much like the food in India but that would hardly do justice to the culinary spread and the gracious hospitality that I experienced. Even though I knew the alikeness between the two, it still threw me off guard to experience how the same ingredient was able to produce such a different flavor when utilized in each of the two. Nevertheless, I see how both can easily be mistaken for the other, it is only upon a closer observation that the differences come to light. 
Food in this part of the world is not just a source of nutrition and sustainability, it is entwined with their general way of life and observes connections drawn to its culture, customs, traditions, and norms. Small as it is in terms of landmass, this tropical island hosts a range of diversity that is beyond comprehension.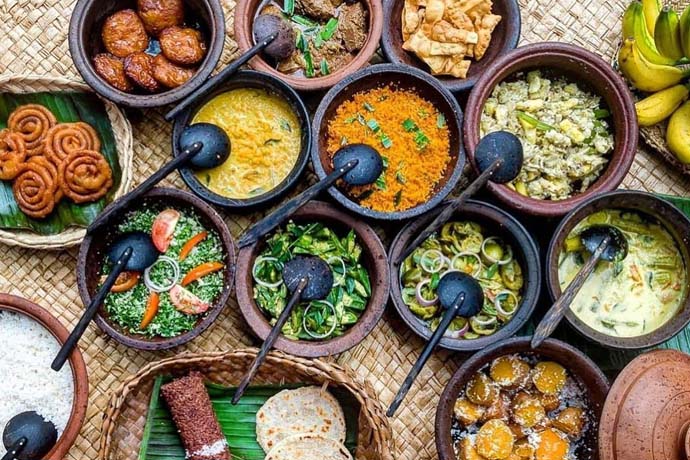 Multi-ethnicity is Sri Lanka's double-edged sword. It is both its strength and weakness, it brings a host of vibrancy from people who are devotees of the most followed religions in the world and for this same reason it also runs the risk of triggering chaos on many levels (a story for another day). The demography of Sri Lanka is made of four principal faiths and for obvious reasons they gear all major aspects of their life including how and what they eat and drink. Traditionally the Buddhist and Hindu communities of Sri Lanka opt for a plant-based diet. This was a practice encouraged by the philosophy of their faith. It is the followers of Islam and Christianity that treat meat as a more significant aspect of their food regime. However, over the years their perspective on food has influenced each other and gradually evolved to be the present-day culinary feast that you will have the pleasure of digging into.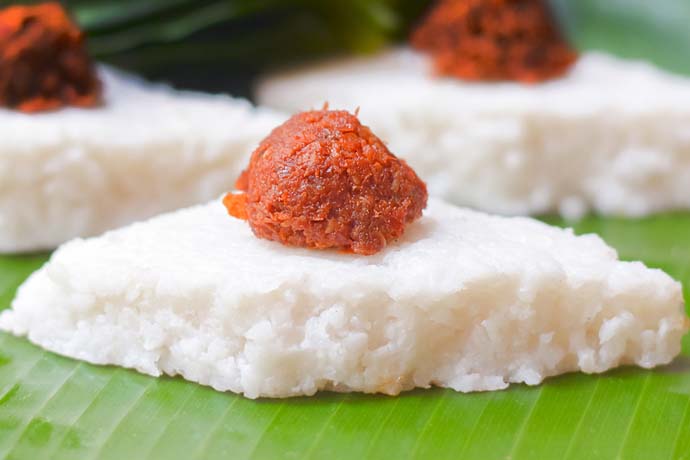 This is an all-time favorite! It is also heroes during auspicious and special occasions in Sri Lankan homes. Saving you and me the trouble of probing into eastern culinary lingo, let me tell you that milk rice is essentially what it is named after, i.e. Rice cooked in milk. The method of whipping this up is quite straight forward, upon bringing the rice to a boil coconut milk is added to the pan and voila! 
The result? This amazingly aromatic gooey consistency in the rice that the milk holds together. Eaten with sambal (hot relish) made of onions and/ or with beef/ chicken or fish curry, this is definitely a dish that will make your taste buds sing!
For the full-on experience of this beloved dish, try it with sugar or any other natural sweeteners such as treacle (much-loved among the kids) which is often opted for to balance out the spice from the sambal and the curries. So basically a meal and a dessert in one kinda deal.
02. Traditional Sweet Meats
Traditional sweetmeats such as kawum (oil cakes), kokis, asmi, and mung kawum are a vital element of Sri Lankan culture and a novelty specific to only Sri Lanka. They are most commonly available during the Sinhala and Tamil New Year in April and also present during auspicious occasions alongside the milk rice.
Most sweetmeats are made of rice flour in various quantities of jaggery, treacle, and many other locally sourced ingredients.
Rice is the main carb component in most traditional meals in all parts of the country. In the past, people are said to have consumed rice for all three main meals of the day. It comes as no surprise as the island is self-sufficient with vast lands of paddy fields/ land dedicated to the cultivation of rice and the other vegetables that accompany. Vegetables and yams are available all year round and they are prepared into curries with very slight variations from the locality of its origin.
On the coasted part of the island, seafood takes the stand in the everyday meal plan and in the hill country situated further into the country vegetables are a more common sight. Sri Lankans take a lot of pride in their hospitality. For that very reason, they leave no stones unturned in order to facilitate their visitors. Cooking is a labor of love for these people. 
Their spices are exceptional as most often they are ground at home. The most commonly used spices are cinnamon, cardamom, nutmeg, chilli, mustard seeds, coriander, cumin, saffron (to get the color) and curry leaves that go into almost every meal is ground in their kitchen.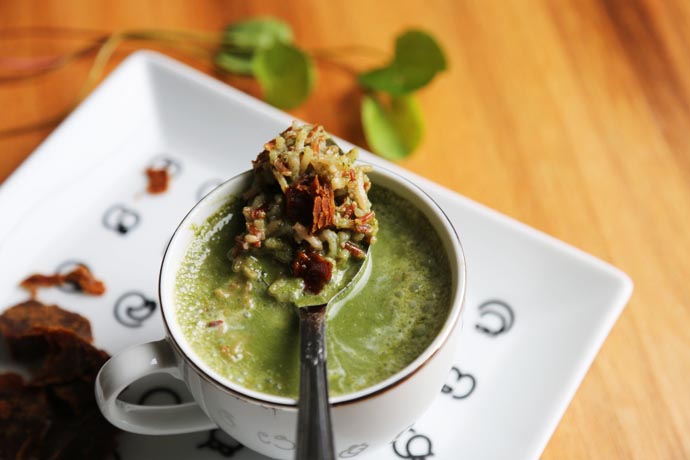 Yes, again this is made of rice and is fortified with iron and all else that is good for you. Kola Kanda (herbal porridge) is one of the ''go to" breakfast options in Sri Lanka and tastes best when served hot along with jaggery (palm sugar).
Hoppers are crispy pancakes with a soft inside. This bad boy is ever so popular in the streets of Lanka and tastes really good with Katta sambal (hot relish with maldifish) and tastes heavenly when served hot, fresh out of the small wok that it is made in. It is amazing how merely three ingredients (fermented rice flour, coconut milk & coconut water) can make up for this unique snack/ meal that I believe is the alternative version to waffles and pancakes.
String hoppers look a lot like noodles, but unlike the later they are not loose ended, instead they are swirled to create a small circle-like shape. It is a very popular item for both breakfast and dinner and is served with a host of curries that elevates the whole experience of the home-grown way of dining.
Favored curries for string hoppers are coconut sambal, dahl curry, and a coconut milk curry.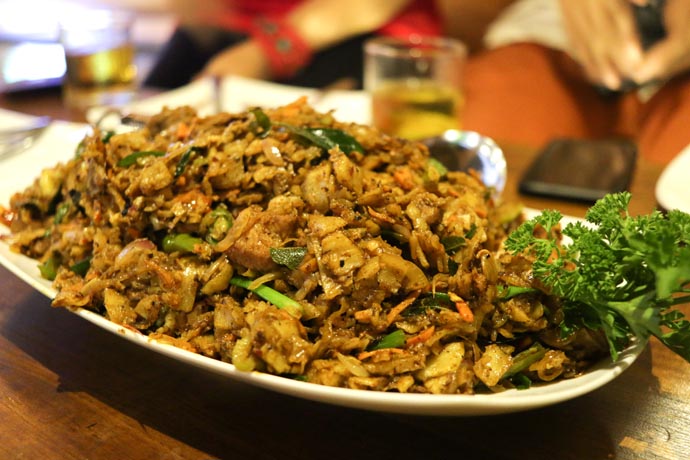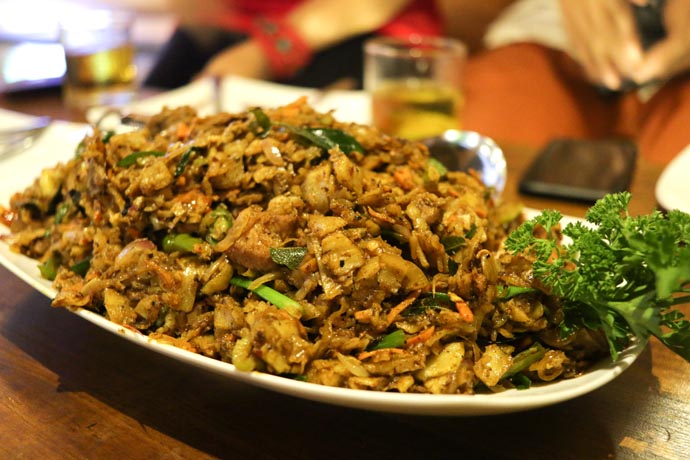 Kottu is Sri Lanka's go-to street food. It is an innovative combination of both flavor and texture which throws in vegetables, curry and of course roti to create a distinctive taste is loved by all who visit Sri Lanka each year. 
Kottu is served in many varieties. Beef kottu, Chicken kottu, and Cheese kottu are the most favored among all. A kottu spot (a cart /mobile truck or a small shop that serves this ''must-have'' is a common site in most street corners. 
The tricky part of the story? Though it is commonly available throughout Sri Lanka, it is not up for grabs all day long. In general, Kottu is served towards the later part of the day as it is considered as more fitting for the less rigid vibe during the nighttime.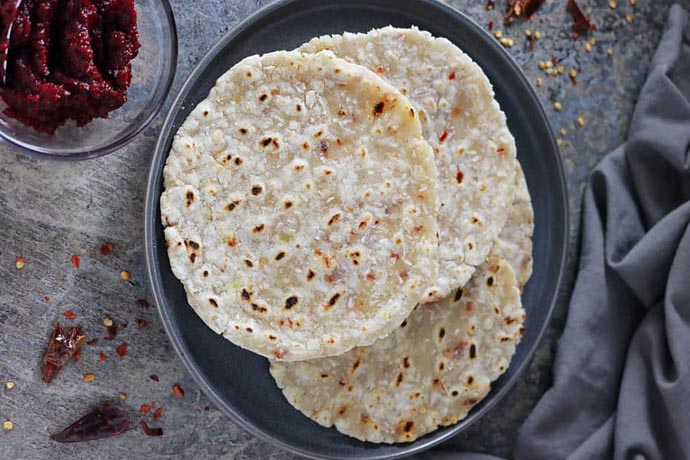 The best place to try pol (coconut) roti is the food carts available in Galle face (beach strip in the heart of Colombo) or in a pol Athu Bath Kade (Sri Lanka's take on small boutique cafés). That is great not just for the roti itself but for the vibe that sets when it all comes together in unison. This simple combination of coconut, flour, salt and small amounts of water is un-doubtfully one of the frequently requested in its many versions that sometimes includes grated onions, chillies, and curry leaves.
The go-to drink with most meals is naturally sweet water that is said to be of many health benefits. The Sri Lankan kind coconut is orange in color and is grown in a tree that resembles the typical coconut tree. In fact, in Sri Lanka, even the coconut water is taken for drinking.
The most authentic experience of the above is not in the restaurants and cafe's you will come across in the commercial cities of Lanka, in fact, the most precise taste is most often available in the simple shops situated along the roadside when you expand your travel into the heart of the country, they offer the most hygienic food which is most definitely value for money. 
It is a pleasant surprise to know that all of the above is available in these roadside establishments for just under 2 USD. While this is not inclusive of any meat items, it is always available on demand for an additional price which is again merely under 1 USD.