Houston is the most popular city in Texas and the fourth most populous city in the United States. Houston's economy in the late 19th century had a broad industrial base in energy, manufacturing, aeronautics, and transportation. Houston is also leading in healthcare sectors and oilfield equipment building and has the second most Fortune 500 headquarters of any US municipality within city limits. The city is the most diverse metropolitan area in Texas and is described as the most racially and ethnically diverse major metropolis in the US. Also, the city has beautiful hotels with top-notch amenities if you are looking for a stay. Check out the top 5 Hotels and pick one which suits your expectation.
The Post Oak Hotel at Uptown Houston is the city's only AAA Five-Diamond destination boasting elegant accommodations masterfully blended with extensive conference space, prominent office space, designer fashion, signature dining, and sophisticated amenities all in one tower. Whether savoring the unmatched culinary excellence of Mastro's Steakhouse, easing tension with ancient healing practices at The Spa, arriving in style by way of helicopter, or discovering new levels of beauty at the two-story Rolls-Royce showroom, The Post Oak Hotel is sure to embrace every desire of savvy business and leisure travelers alike. The Post Oak Hotel at Uptown Houston, a lavish experience so uniquely refined there can only be one.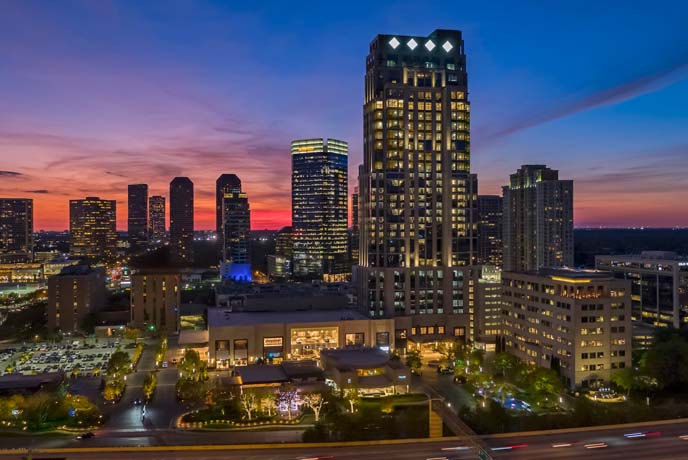 The 250-room Post Oak Hotel features a vibrant mix of sleek, ultra-modern guestrooms and suites showcasing a long list of extravagant services and amenities, accommodations are lavishly equipped with five-fixture deluxe bathrooms, state-of-the-art audiovisual technology, three televisions and separate lounging area alongside unsurpassed views of the famous Houston skyline.
Luxury Guest Room
Executive Suite
Concierge Guest Room
Concierge Executive Suite
Classic Suite
The Post Oak Suite
The Presidential Suite
Bloom & Bee is an enchanting dining destination with a focus on fresh, locally-inspired cuisine. Reminiscent of a lush garden filled with gorgeous blooms, Bloom & Bee invites the outdoors in with extravagant floral accents, pastel colors, and a wealth of natural light. Enjoy light sustainable dishes to hearty handmade pasta under an elaborate ceiling of blown glass flowers or dine on the elegant outdoor patio for breakfast, lunch, and dinner daily.
NEAR ATTRACTIONS
The Galleria
Pinta Ranch Fine Western Wear
Water Wall
Cacao & Cardamom Chocolatiers
Church of St Michael
Museum of Fine Art Houston.
A Houston hot spot for sports and entertainment, as well as being home to the NBA's Houston Rockets, Toyota Center is an award-winning staple for downtown excitement. The venue's award-winning design showcases large open windows and top-line comfort seating you'll be pressed to find anywhere else.

Alessandra guests particularly enjoy this venue for its fabulous concerts and exciting sports events. But there's even more to love in their superior food and service in exclusive establishments like Lexus Lounge, the trendy Wood forest Club, and the Red and White Bistro. You can even rent a luxury suite with dramatic views, premier sound systems, club lounges, and fine dining for the ideal setting for bonding with family, friends, or colleagues.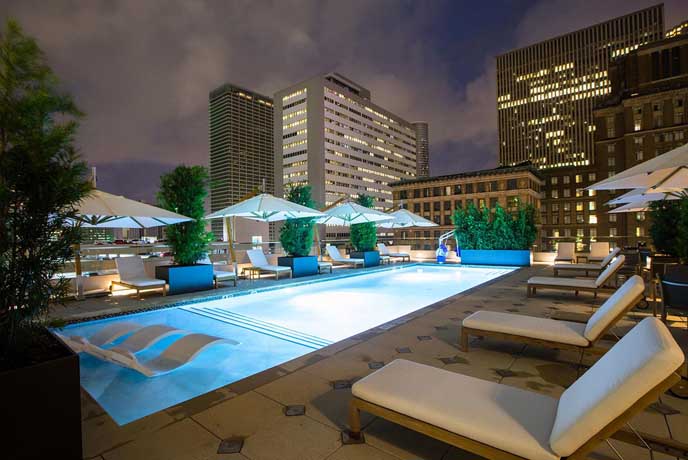 Sophistication reigns in Alessandra's guest rooms and suites. You'll experience nothing less than the best, with custom Valencia Hotel Group bedding, premium linens, lounge seating, thoughtfully conceived marble-clad bathrooms, free-standing soaking tubs, walk-in showers with rainfall heads and an abundance of closet and storage space. This is just the beginning of comforts and delicate touches that afford you the relaxation and balance you came for.
Presidential Suite
Ambassador Suite
Junior Suite
Executive Suite
Alessandra brings you the finest flavors, plated presentations, and well-thought decor at each of the dining venues. From the character of the Bardot's fine wines and cocktails to the open ambiance and Continental European Cuisine at Lucienne, you'll love the menu selections Alessandra provides.
NEAR ATTRACTIONS
Best Bites Houston
Minute Maid Park
Lucky Strike Houston
Toyota Center
Alley Theatre.
Hotel Granduca Houston has set the standard in Houston for luxury service. Since open in 2006, Granduca Houston is the first jewel in the crown of the Interfin Hotels hospitality group. Located in the heart of Uptown Park near the Galleria. Described as the Palace of the Duke, the stunning Hotel Granduca Houston is inspired by the life and history of Adalberto Malatesta, Granduca of Monfallito. Born in 1524 in Rimini, Italy, Adalberto, and his family were forced to flee their homeland due to territorial wars and civil unrest when he was four years old.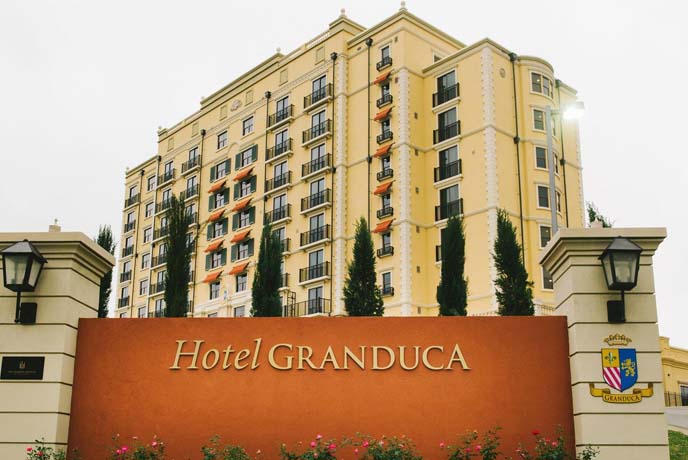 The collection of 122 rooms and suites are designed to reflect the comfort of home and feature luxurious amenities combined with Italian accents. In-room amenities include balconies overlooking the property's pool and gardens, dining and sitting areas, full kitchens, walk-in closets, and complimentary WiFi. Additional features within the hotel include the award-winning Ristorante Cavour, which highlights Northern Italian cuisine combined with seasonal offerings; Salone Rialto, a stunning ballroom, a beautiful courtyard and pool oasis with adjacent fitness facilities, as well as four state-of-the-art conference rooms available for business or personal use.
Residenza Imperatore
Villa Suite
Signature Granduca Suite
Executive Junior Suite
Traditional Junior Suite
Traditional Granduca Suite
Hotel Granduca Houston is home to one of Houston's most exquisite Saturday and Sunday Brunches, featuring an a la carte menu of assorted salads, seafood, meats, pasta, desserts, and traditional brunch favorites. Hotel is Ristorante Cavour, Giorgio, il Giardino.
NEAR ATTRACTIONS
The Museum of Fine Art
Memorial Park Running Trails center
Exitus VR LLC
Levy Park
River Oaks
CAMBRIA HOTEL HOUSTON DOWNTOWN
Cambria Hotel Houston Downtown Convention Center. The hotel wants to bring you the best of what Houston has to offer so you can make the most of your visit. You'll find us in the heart of Downtown Houston, giving you access to the amenities and attractions that make travel fun and memorable. Whether you're visiting Houston for business or vacation, we will give you every reason to indulge in the charm of Texas' largest city. The hotel brings modern sophistication to the historic Art Deco architecture to one of the city's most iconic skyscrapers, the historic Great Southwest Building.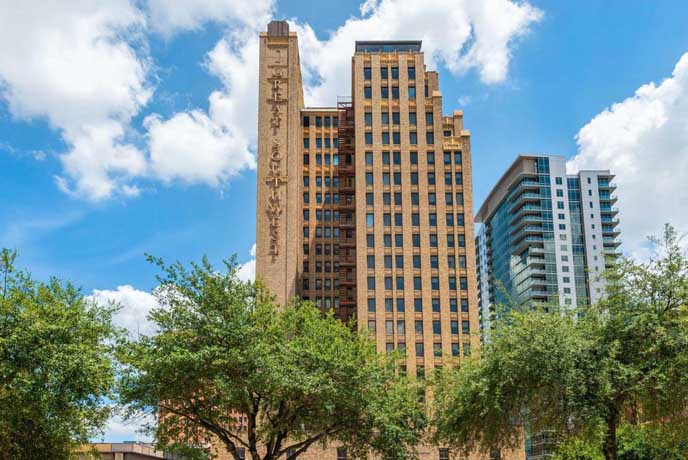 The spacious guest rooms provide the ideal accommodations for your visit to Houston. Walk-in showers with spa-quality bath products, comfortable beds with premium linens, and a dedicated workspace with a desk, ergonomic chair, and charging outlets for your mobile devices are the standard in every room. We've designed each room with inspiration from Houston's local scene to help you truly feel the energy of the city.
1 king bed
1 Bedroom Suite
2 Queen Bed
The Rig for freshly prepared snacks, appetizers, and main courses inspired by Downtown Houston's thriving food scene. Before heading out to explore the nearby districts of Downtown Houston you can stop by and purchase a signature cocktail served by our friendly bartenders serving craft beers from the city's best local breweries, unique mixed drink recipes, and a premium wine selection. Dining at The Rig is a grand affair with the delicious food and drinks made specially to give our guests a taste of the finer side of travel.
NEAR ATTRACTIONS
Minute Maid Park
Houston's Theater
Downtown Aquarium
Big Bubble.
A small historic luxury hotel in the city's vibrant Theater District. This landmark hotel enjoys a legacy of nearly 100 years of providing exceptional service and hospitality. It is also known for its long history of hosting a diverse list of celebrity guests that have included – a horse, opera singers, musicians, actors, dancers, screenwriters, film stars, poets, authors, politicians, wrestlers, boxers, and circus and rodeo performers. Built-in 1926, The Lancaster Hotel was originally named the Auditorium Hotel. It was designed by noted Houston architect Joseph Finger (1887-1953). The finger was also the architect of Houston's City Hall, an art deco structure located a short distance from the hotel on Bagby Street as well as many other prominent buildings in Houston and Galveston.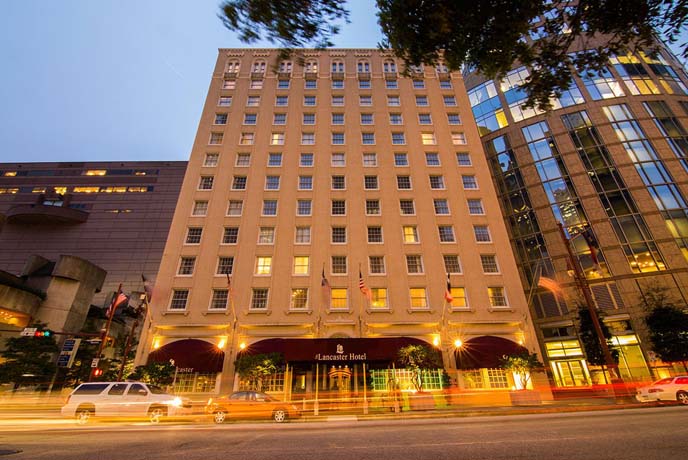 The luxurious guestrooms are designed to be classically distinctive yet elegantly authentic. Each guestroom is appointed with complimentary in-room snacks and beverages, Nespresso coffee, luxurious Frette bedding and linens, and double-pane windows for quiet and comfortable slumber. For added luxuries, you may enjoy Bulgari bath products, turndown service, and a 55″ smart television.
Classic king Guestroom
Deluxe King Guestroom
Deluxe Double Queen Guestroom
Classic Penthouse King Guestroom
Deluxe Penthouse King Guestroom
A collection of nine unique and distinctive suites await. All suites feature luxurious Frette linens, step-in showers, Waterworks bath vanities and fixtures, and original works of art.
The Artist Suite
The Producer's Two-bedroom Suite
The Playwright Penthouse Suite
The Director's Penthouse Suite
The new Cultivated F+B has embraced its pride of place as one of Houston's most intimate and seasoned fine dining establishments. Looking beyond the latest trends, we chose to let time be the best critique combining the spirit of classic luxury with modern touches in the restaurant like the curated original contemporary art by Texas Artists such as Gael Stack, Trenton Doyle Hancock, Allison V. Smith, Tommy Fitzpatrick, and others.
NEAR ATTRACTIONS
Discovery Green
Downtown Aquarium
Third Coast Cruises
Market Square Park
Buffalo Bayou Park
The Gulf Building
Allen's Landing Park