Phoenix, the capital city of Arizona is also the 5th city with a high population in the United States. It is also the only state capital with a population of more than one million residents. The early economy of Phoenix focused on agriculture and natural resources especially the 5Cs which include copper, cattle, climate, cotton, and citrus. The city has numerous performing art venues, most of which are in and around downtown Phoenix or Scottsdale. If you are planning for a vacation with your family to this diversified city, spare a couple of minutes to check out the top 5 Hotels in Phoenix City along with their state of the art amenities, that will give you an idea to decide which suits best for you. Thus your trip and stay become a memorable one for you and your dear ones.
ARIZONA BILTMORE, A WALDORF ASTORIA RESORT
The Arizona Biltmore, a Waldorf Astoria Resort has been a stand-out destination, creating unforgettable memories. Over the years, the 39 acres of gardens, swimming pools, and iconic architecture has provided a haven for celebrities, diplomats and presidents, and a luxurious resort for guests from all walks of life. Championship golf, Spa Biltmore and fitness center, multiple restaurants, and a variety of amenities await you in the heart of the Camelback Corridor. Explore the rich and colorful history of the Arizona Biltmore, one of the only existing luxury hotels in the world with a Frank Lloyd Wright influence. The Biltmore was designed by Albert Chase McArthur, a Harvard graduate, who had studied under Frank Lloyd Wright. Wright was hired as a consulting architect for a brief period. The resort has been an Arizona landmark since its opening on February 23rd, 1929. From the resort's famous owners to the acclaimed property enhancements, the Arizona Biltmore, a Waldorf Astoria Resort, is a timeless treasure. Classic elegance meets modern sanctuary at the foot of the Phoenix Mountain Preserve. Whether it's a classic room or an expansive Biltmore Suite, the Arizona Biltmore provides an unmatched blend of style, elegance, and comfort.
Presidential Suite
Villa Suite
Junior Suite
Ocatilla Club Room
Cottage Room
Resort Room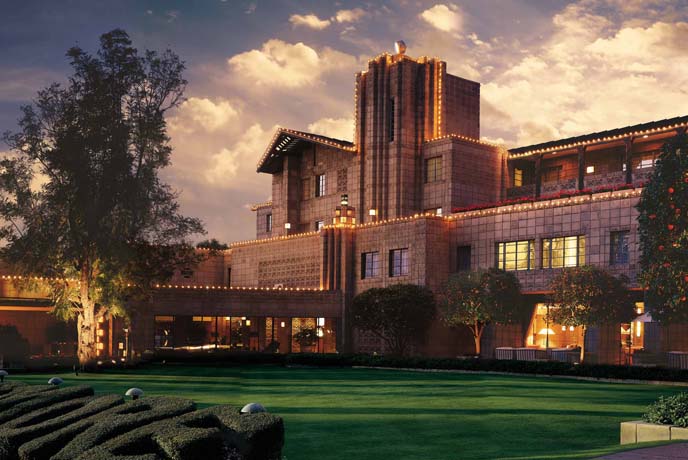 Experience aromas and flavors as bold and beautiful as the views of the Phoenix. The array of restaurants and bars feature elegant decor, delectable dishes, and innovative drinks to suit all tastes and moods. Let us inspire you with unforgettable cocktails and cuisine at the Arizona Biltmore, A Waldorf Astoria Resort. And have your breakfast, lunch, dining at Wright's at the Biltmore, Frank & Albert's, The Wright Bar.
AREA ATTRACTIONS
Piestewa Peak
Camelback Mountain
Phoenix Mountain Preserve
Heard Museum
Phoenix Symphony.
THE CAMBY, AUTOGRAPH COLLECTION
The Camby Hotel is more than an elegant urban respite. This is a vibrant and engaging experience of a boutique hotel in Phoenix for savvy travelers who demand flavor in their business and distinction in their play. It's evident the moment you arrive and your assistant is already in uncanny sync with your needs. It's clear in the Southwestern-chic decor and the playful places that evoke a sense of what the luxury hotel in Phoenix is about. Surrounded by sophistication, onsite restaurants, and a rooftop bar, you'll unwind in the pool with a sunset cocktail and mountain views. And, of course, it's present in the pet-friendly hotel rooms, where statement-making design means marble bathrooms and eye-popping artwork. The Camby Hotel is a bold and inspired balance of authenticity and cutting-edge style that extends into food, art, entertainment & more, right here in Biltmore Fashion Park and downtown Phoenix, Arizona. Guest rooms in the towering hotel are spacious and sumptuous, featuring dark woods, marble bathrooms, expansive windows, and beautiful Buckhead skyline views. Suites offer a residential feel with a separate living area.
Luxe
Mountain View Room
City Lights Room
Summit View Room
Uptown Suite
The Presidential Suite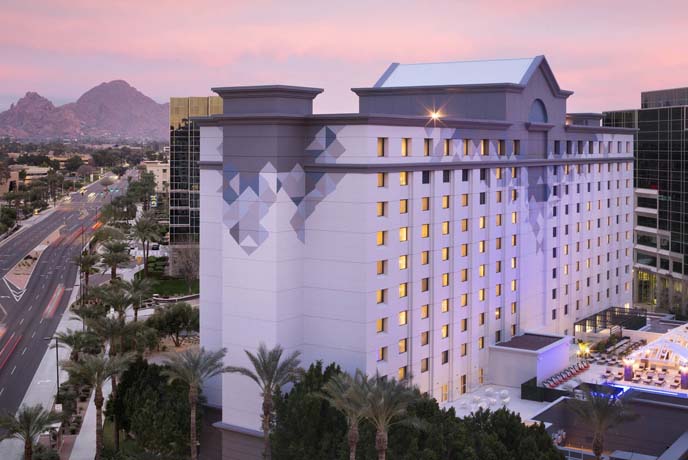 Savor simple yet sophisticated cuisine of Artizen at The Camby Hotel. Artizen, the restaurant at the boutique hotel in Phoenix, offers a delicious American fare, crafted by the renowned chef and showcasing seasonal ingredients and Southwestern influences. Dip your toes into the urban oasis at the Wade Poolside Bar. Offering an unparalleled poolside menu, the restaurant and bar at The Camby Hotel welcomes guests with delicious food, a fun atmosphere, and complemented by gorgeous sunsets of Phoenix. Lift your pinky at The Bees Knees, pouring a modern twist on tea time. Served alongside afternoon bites, libations feature playful takes on classic teas, such as English breakfast and Earl Grey, each infused with a spirit or sparkling wine.
AREA ATTRACTIONS
Musical Instruments Museum
Chase Field
Heard Museum
Phoenix Art Museum
University of Arizona
Papago Park.
JW MARRIOTT PHOENIX DESERT RIDGE RESORT & SPA
The Club at Arizona's JW Marriott Desert Ridge Resort & Spa provides unparalleled service, endless recreation, and exquisite dining far beyond those offered at a typical private club. The unique "country club within a luxury resort" means you and your family have constant access to over 300 acres of amenities to serve as your private country club playground. The family-friendly resort accommodations are carefully designed to enrich your Phoenix visit. Settle into thoughtfully appointed rooms and suites with a golf club, resort ground, or mountain views. Perks for your stay include jetted tubs in the bathroom, robes, and the JW Luxury Bedding Package.
Presidential Suite
Signature Report
Premium View
Fire Pit
JW Griffin club
Junior Suite
Executive Suite
Deluxe Suite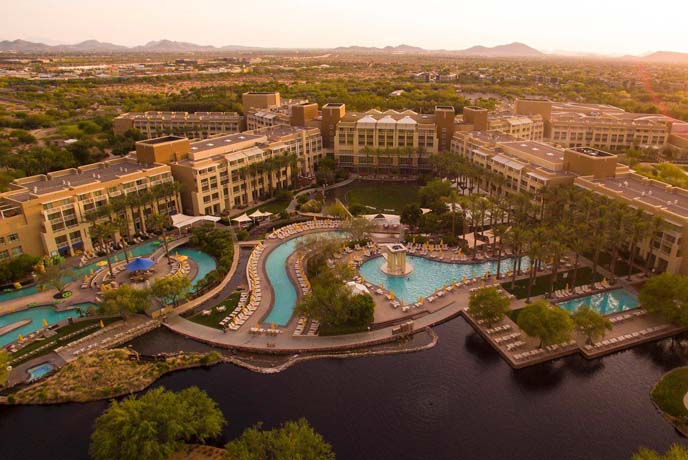 Whether you are craving a casual brunch or a night of fine dining, the onsite restaurants at JW Marriott Phoenix Desert Ridge Resort & Spa will delight, here goes some restaurants. Stonegrill- Open for breakfast, lunch, and dinner, Stonegrill features regional and local dining in a relaxed restaurant atmosphere. Join for dishes including Bison burgers, tacos, and poached eggs with short rib – as well as the unique Tequila bar. Twenty 6 – This sleek lounge is an ideal spot for unwinding with friends after a busy day in Phoenix. Savor a craft cocktail or a private label beer and light bites as you take in the views on the outdoor patio. Meritage – is located within Desert Ridge Golf Club and offers steaks, chops, local beers, and other specialties. This upscale restaurant is open for lunch and dinner.
AREA ATTRACTIONS
Tournament Players Club Scottsdale
Phoenix Zoo
Chase Field
Phoenix Art Museum
Desert Botanical Garden.
RENAISSANCE PHOENIX DOWNTOWN HOTEL
Discover luxurious decadence in downtown Phoenix AZ's vibrant landscape at Renaissance Phoenix Downtown Hotel. Offering 4-Star services and urban decor, the hotel boasts an ideal location near an incredible array of attractions. If visiting Phoenix for business, host your next inspiring event in our sophisticated event space with over 51,000 square feet. When finished with work for the day, refresh your energy with a workout in Thrive Fitness Center, or treat yourself to tasty South-western cuisine at Dust Cutter, the popular, cowboy-inspired restaurant. Unpack your bags in thoughtfully-appointed downtown accommodations with modern sophistication and second-home comfort. Enjoy pillow top bedding, designer bathrooms, and high-speed Wi-Fi access. Or, upgrade to a hotel suite for deluxe amenities and exclusive Club Lounge access. The Renaissance Phoenix Downtown Hotel wants to make your stay flawless.
Guest Room
Club Level
Suite
Executive Suite
Studio Suite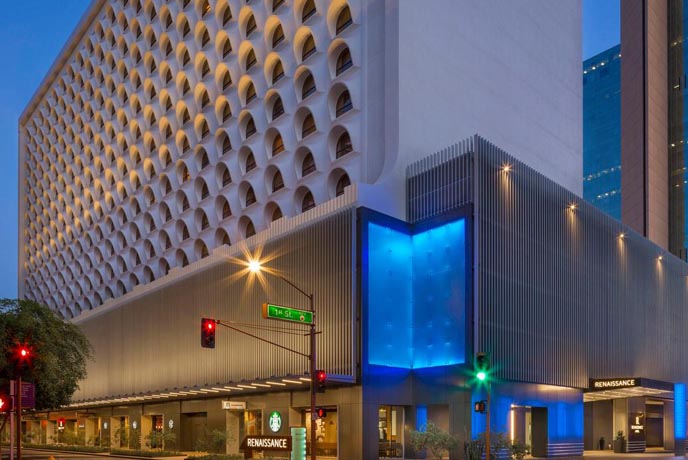 Explore flavors of the Sonoran Desert at Dust Cutter, the restaurant near downtown Phoenix and the convention center. Enjoy dining in a lively atmosphere with modern cowboy decor, delectable food, and handcrafted specialty cocktails from the urban saloon. Marston's Cafe for a tasty breakfast experience of local produce and fresh ingredients before exploring downtown Phoenix. Relax with a cup of coffee in the charming restaurant while ordering hearty breakfast fare from the innovative menu.
AREA ATTRACTIONS
Phoenix Convention Center
Chase Field
Stick Resort Arena
Phoenix Art Museum
Royal Palms Resort and Spa, where an original Spanish Colonial Revival villa is met with rejuvenating spa services, world-class cuisine, and sweeping desert landscapes. Once a 1920s-era winter home, today the luxe resort beckons guests to enjoy a laid-back retreat at the base of Camelback Mountain. Reminiscent of an elegant Spanish Colonial-style estate, each of the 119 rooms at Royal Palms Resort and Spa offers unique historic touches. Spaces feature European furniture and boast stunning views of the mountains or lush courtyard gardens. Six ultra-spacious villas provide grand outdoor patios, stone floors, and crackling fireplaces, while some rooms are host to luxe bathrooms with deep soaking tubs and rainfall showers. When you're looking to explore, the resort is located a short distance from Old Town and top Phoenix destinations including the Desert Botanical Garden.
Valencia Villa
Presidential Villa
Alvadora Spa Villa
Arcadia Villa
Mountain View Suite
Mountain View Spa Suite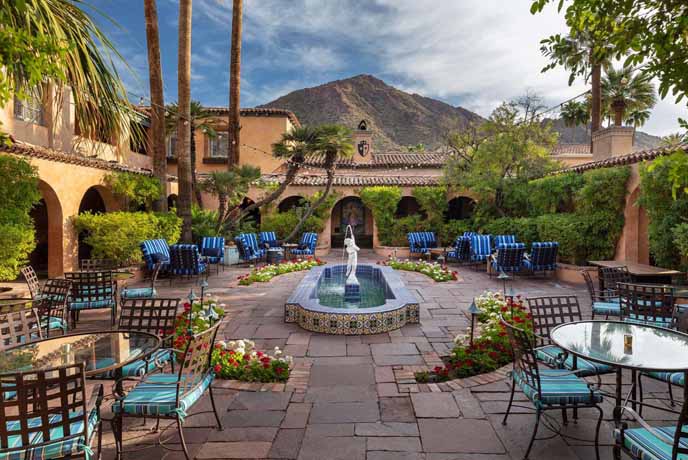 With farm-to-table freshness in every dish and innovation in every cocktail recipe, the signature restaurant and chic lounge at Royal Palms Resort and Spa promise experiences that are anything but the ordinary. The restaurants available here is T. Cook's, Cabana Cafe, MixUp Bar.
AREA ATTRACTIONS
Desert Botanical Garden
Scottsdale Stadium
Shemer Art Center & Museum
Taliesin West
Kierland Commons