Sabah, one of the two provinces in Malaysian Borneo is a magnet for adventure seekers. The largest flower in the world 'Rafflesia', orangutan sanctuaries, unrivalled diving opportunities (on Sipadan Island) and homestays in longhouses are just some of the few attractions of this corner of the well-known island.
The big draw is the looming Mount Kota Kinabalu that requires no advance mountaineering skill but is a challenging trek in itself. In addition, the mountain offers the added attraction of scaling down via one of Asia's few Via Ferratas. Legend has it that a white chicken has to be sacrificed at the top to appease the gods.
The trek up can be completed in a single day but it is more often completed in two days with an overnight stop in between. Accommodation is limited, ergo advance booking is required at the Kota Kinabalu national park to secure a confirmed spot as only 146 climb permits are allowed each day.
The slopes of Kota Kinabalu (also Poring hot spring near KK) and other parts of Sabah and Borneo, are home to the largest single bloom in the world – Rafflesia. Many of the Rafflesia species bloom only once every year and decompose within a day or two. They are not surprisingly also called 'meat' or 'corpse' flower as they emit an odor akin to the smell of rotting flesh. The stinky blossom is also the official state flower of Sabah. The flowers reportedly grow up to 1 meter in diameter and can weigh up to a whopping 11 kgs.
After the arduous trek, the perfect place to wind down would be on the nearby river Kinabantangan. Several jungle lodges offer two nights and three day packages that include several jungle walks and river cruises. The river cuts through thick tropical rainforests and is just the place to look for the elusive proboscis monkeys. These monkeys, especially the dominant male, have large phallic noses and usually live in groups comprising a large alpha male along with a harem of female monkeys and young offspring.
Carry a strong pair of binoculars to spot these and other fauna endemic and otherwise to the region. Curled up pythons, giant monitor lizards, colossal crocodiles, long tailed macaque, short tailed macaque and other species of monkeys can be found early mornings or late evenings in the forests lining the river edge. While the Sepilok Orangutan rehabilitation center in Sabah is where most travelers go to look at orangutans, Kinabatangan is an excellent area to spot orangutans in the wild. It is also a paradise for birdwatchers. The Rufous-collared Kingfisher and the Bornean Wren Babbler amongst hundreds of other birds can be spotted here.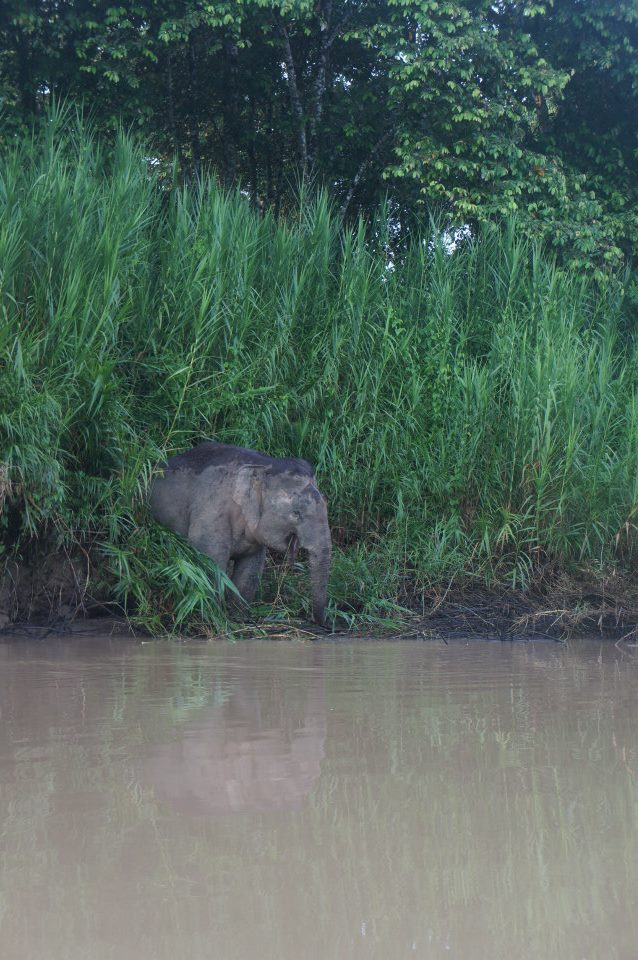 The region is also home to large herds of pygmy elephants. When these are around, jungle lodges cancel day and night walks into the jungle to ensure visitors safety. Groups of unruly elephants have been known to trample down entire fields close to the river lodges. When elephants are too close at hand, visitors can safely amble along boardwalks running around the perimeter of most lodges. At such times, another option is to lazily canoe down the river.
Occasionally there are palm tree plantations sprinkled in the land that has been cleared in the center of the jungle. Palm oil, we were told, is a large revenue generator for the Malaysian government. These have since been banned by the Malaysian government. Unfortunately, illegal plantations continue to be a threat to the fragile Kinabatangan eco system.
On a more positive note, in Northern Sabah, travelers can also arrange for stays in traditional communal longhouses in and around Kudat with Rungus people, an ethnic group known for their elaborate beadwork.
Leaving the best for last, the island of Sipadan is the byword for serious scuba divers. Sipadan is well connected via Tawau both by road and air. From Tawau it is a 1-2 hour drive to Semporna. From Semporna, a speed boat will ferry you across in an hour. Sipadan is a dive only destination. It has been declared a national park and no visitors are allowed to stay overnight. South East Sabah is sometimes conflict ridden and is heavily monitored by the Malaysian army but many still throw caution to the wind to dive here. For an offbeat experience, stay at the (converted) oil rig resort 'Seaventures dive Resort' off the shore near Mabul. Book in advance as only 120 dive permits are available each day. It is claimed that once you dive here, more likely than not, all other dives pale in comparison!
Feature image- Rafflesia, world's largest single bloom, Mount Kinabalu National Park.