Chennai is the capital city of Tamil Nadu, there is a constant urge for many Indians and foreigners traveling to and fro, irrespective of the purpose of travel which can be commercial, official or personal. Therefore, listing down the top 3 luxurious hotels available for your stay at your convenience.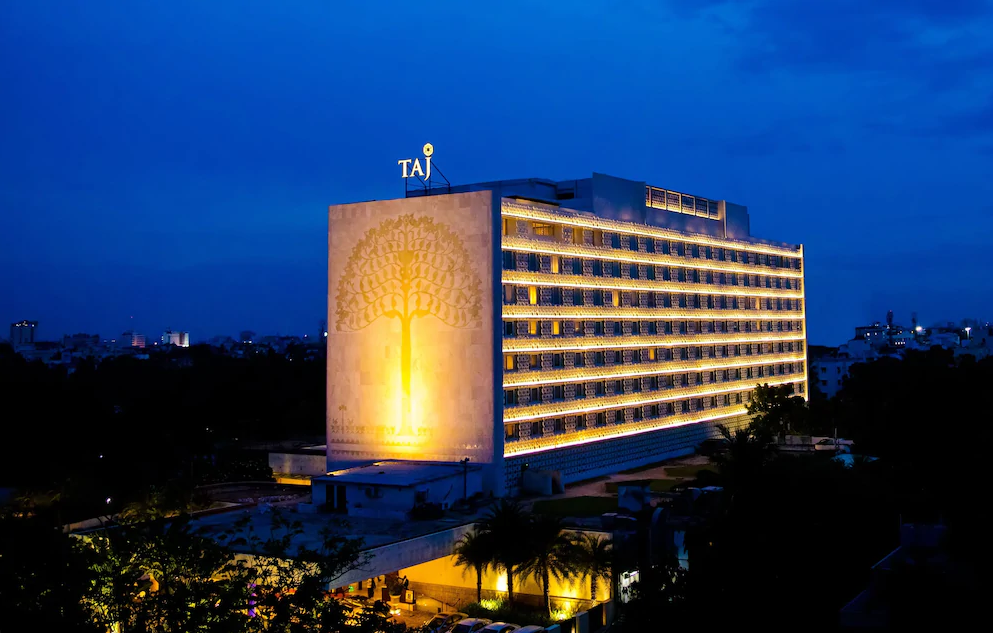 This hotel is one of the ancient and oldest ones compared to the other five star properties in Chennai. Opened in the year 1974, owned by Oriental Hotels Limited, an associate of Taj Group of Hotels and obviously falls under the category of luxurious hotel section. This hotel is named after the Coromandel Coast on which the Chennai city is situated. Located in one of the busiest areas Nungambakkam, this hotel serves as a landmark to locate other nearby places. Since it is built in the early 1970s, this hotel underwent a vast renovation in 2011 at a cost of about ₹1000 million. Belt Collins, a renowned design firm, designed a new driveway with new landscaping and Chandu Chadda from Hong Kong redesigned the cavernous lobby.
This property gives a high-end fusion of South Indian design and classic elegance. This five-star hotel has typically played host to famous political figures such as President Jimmy Carter, his Royal Highness Prince Andrew, President Bill Clinton, and also the Emperor and Empress of Japan. According to the legends, there is also a belief that the Coromandel tree has the power to grant any wish to a person who is under its shade. This, as a metaphorical reference to any guest who visits the hotel being granted anything that he or she wished during the stay. This is also cited as one of the reasons for naming the hotel as "Coromandel". To signify this, the tree has been engraved into the marble facade of the hotel.
Having a total of 212 rooms, that includes 11 suites. Starting from luxury rooms, grand luxury, club room, junior suite, executive suite, a grand luxury suite and Coromandel one can choose according to their preference and cost. The build-up area of each room or suite varies from 320 sq.feet to 2400 sq. feet. The cost per room ranges from INR 9500 to 1,76,000 per day.
They serve a wide range of cuisine and have separate restaurants for each, where most of it has a wine and dine option.
1. Prego – Italian delicacies
2. Southern spice – South Indian with filter coffee
3. Golden Dragon – Exclusively Chinese
4. Anise – Midnight buffet for late-night cravings
5. Chipstead – All-day dining with liquor and classic cocktails
Other Amenities
Rejuvenate yourself with the explicit spa treatment at their signature Jiva grand spa, watch the sunset over the city from the Taj club lounge and shop from the treasure trove, Taj Khazana as a remembrance of your stay.
Interesting Places Nearby
The Faraway Tree Gallery – 1.9 km
Khader Nawaz Khan (KNK) Road – 950 m
Kapaleeshwarar Temple – 4.1 km
Semmozhi Poonga – 700 m
Valluvar Kottam Monument – 2 km
The Leela Palace is yet another property that falls under the five-star category. Situated in MRC Nagar, that exactly ends the southern side of the Marina Beach. This hotel is designed by Atlanta based architects – Smallwood, Reynolds, Stewart, and associates. This project cost around INR 8,000 million. This huge property is spread over 6.25 acres and is launched in the year 2013, among one of the youngest five-star property in Chennai city. The Leela palace evokes a rich heritage of Chettinad palaces which are known for its space and grandness.
Since it sneaks the Bay of Bengal, evenings at The Leela is serene. Also located in the heart of the city, serves both businesses, commercial and personal needs. This property is not near the Airport as it takes approximately 30 minutes(16 Km), which adds as a disadvantage. However, planning ahead may help you if that's not a concern.
This hotel has 286 Deluxe rooms starting from 530 sq.ft and 30 suites with executive amenities. They even have a banquet hall that spreads across 28,000 sq.feet. The price ranges from a minimum of INR 7600 to 3,43,000. 
They have multiple dining options within, which are as follows
1. Spectra – All day dining joint
2. Jamavar – Indian restaurant
3. China XO – Chinese restaurant
4. The Library Bar – Drinks and beverage
5. The Cake Shop – Pastries and desserts
6. The Lobby Lounge
Other Amenities
They have a beautiful spa named ESPA that serves you with various spa options and also as a salon.
Interesting Places Nearby
1. Ramakrishna Mutt – 2.8 km
2. Theosophical Society – 3.7 km
3. Marina Beach – 4.4 km
4. Express Avenue – 6.2 km
5. Chennai City Center – 3.7 km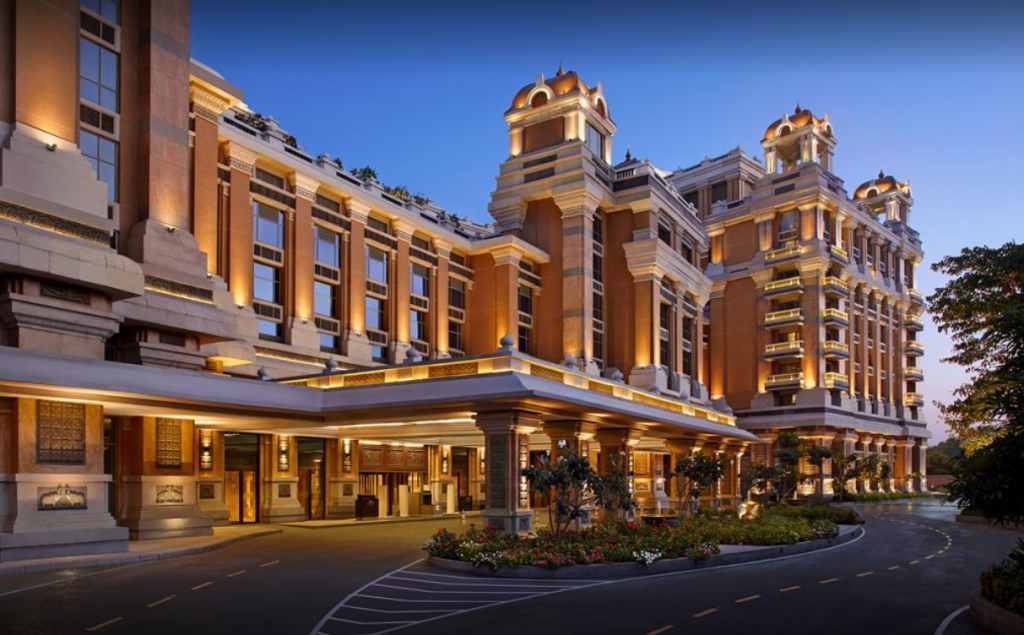 One of the topmost property that is situated in the heart of the Chennai city, which is themed and structured traditionally as a tribute to The Chola Dynasty. This property is designed by SRSS Architects, Singapore. The construction of this hotel follows South Indian temple architecture in which it has 4 entrances and named Vallavan (North), Sembiyan (East), killi (South) and Chola (West). The bronze horse which is found in front of the lobby symbolizes yoking one of them to the chariots of the Chola kings. ITC is built with a concept of three separate wings spreading across 16,24,000 sq.feet with a count of 10 floors and this hotel stands 9th in the "Luxury Collection Hotel" of the Starwood Hotels group. A sum of Rs. 12,000 million is invested to build this huge and the largest stand-alone hotel in the country.
This luxurious hotel is built on Mount Road, Guindy one of the busiest roads and central hub of Chennai. Distanced at 8 km, is the Chennai Domestic and International Airport which serves ideal for travelers. This property connects to all commercial and prime locations of the city easily.
This hotel has 600 rooms in total, in which 522 are of executive and deluxe models, the rest 78 are serviced apartments. The room is differentiated as 326 Executive Club rooms, 31 Eva rooms, 136 Tower rooms, 48 ITC one rooms and 14 Deluxe Suites. The rooms are spread over from a minimum of 615 sq.ft to a maximum of 4380 sq.ft respectively. This one serves best for both business travelers and personal stays. Tariff ranges from INR 14,000 to 27,000 depending upon the room type, availability and demand.
This hotel has 10 vast food and beverage restaurants. Listed below its name and specialized cuisine 
1. Madras Pavilion- International delights
2. Cafe Mercara Express – International cuisine
3. Ottimo Cucina Italiana – Italian
4. Royal Vega – Vegetarian hub
5. Avartana – Exquisite South Indian
6. Nutmeg the Gourmet shop – Sandwich, pastries chocolate and milkshakes
7. Cheroot – Malt, snacks and cigar lounge
8. Peshawri – North Indian and Tandoori
9. Pan Asian – Oriental cuisine
10. Tranquebar – Refreshing beverages
Other Amenities
Kaya Kalp Spa, A Yoga studio, A tea lounge, Men salon, Women parlor, outdoor pool, gyms for each of the three wings, shopping area, 3 swimming pools – a rooftop pool, children's pool, and a Jacuzzi. The Welcome Art gallery has a collection of handpicked art pieces that reflects our ancient Cholas.
Interesting Places Nearby
1. Raj Bhavan – 800m
2. Anna University – 1.2 km
3. Guindy National Park – 1.7 km
4. Pondy Bazaar – 3.9 km
5. US Embassy – 6 km