The island of Bohol, in the Philippines is mesmerizing. Bohol is surrounded by around 75 minor islands making it a paradise for divers and snorkelers. It is also known best for its pristine white beaches. Though a tad touristy, inland the region of Loboc in Bohol is just as soothing on the eye. It is also perfect to explore on motorcycles which you can hire for reasonable prices locally.
Accommodation is basic but the setting more than makes up for it. Loboc is where you can lose yourself in beautiful emerald waters of the languorous Loboc river, lush paddy fields, geological karst formations called chocolate hills, river cruises with Boholonese serenading you with song, tarsiers- the goggly eyed small primate whose eyes are larger than its brain and much more.
We decided to stay in a village speckled with numerous guesthouses. Ours was called Bohol Guest House. Even though it was high season, it was empty. We were the sole guests. Most travelers choose to not venture too far away from the beach. Which is a pity because our guesthouse was located at the end of a mud road right next to the serene blue-green Loboc river. Villagers shepherding goats passed right by us even as traditional wooden boats lazily meandered past on the river at a snail's pace. The whole setting is picture postcard perfect. Diving in to the river for a dip in the hot summer months in such settings seems as natural as breathing.
After the excitement of floating on our backs or alternately sprinting across the river for many glorious hours on the river wore off, we decided to hire a motorcycle and explore a little bit of the rest of the island. The roads being mostly empty it is easy to negotiate the sparse traffic in this more or less rustic region. Our first destination was a church just a 5 minute ride away on the main road. Many churches were destroyed during a 7.2 magnitude earthquake in 2013. Of these. one of the bigger ones was the historical St. Peter's church. It now stands abandoned with most of the roof caved in. It is yet easy to see its appeal in terms of history and architecture.
Our next stop was the much advertised chocolate hills. It is the poster child of Loboc tourism. Some 1,700 conical almost perfectly symmetrical geological ( limestone) formations stand clustered in a 50 km square feet area. During wet seasons the hills are a verdant green but the hills have earned their moniker because during the drier months the sun scorches them a dry chocolate brown.
We drove up to the chocolate hills passing a cool manmade forest on the way. Our destination was the viewing platform, which has been constructed on top of one of these hills. You can ride up almost to the very top after which you can climb up a flight of steps to get a good view of the other mounds around.Brown or green, they are certainly a very pretty sight.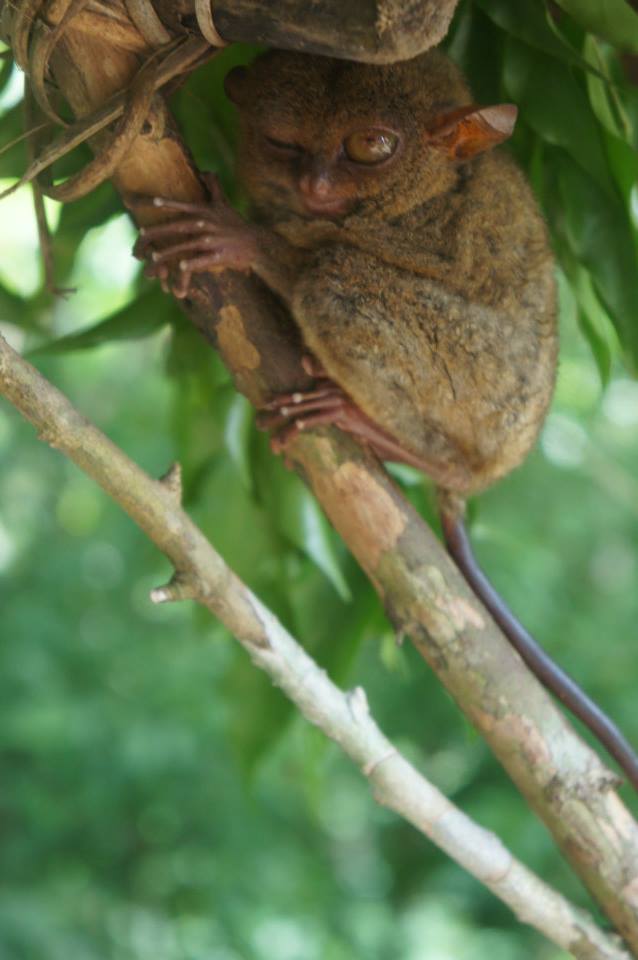 On the drive back we visited a tarsier sanctuary. Travelers are often advised by guide books to choose a sanctuary carefully where the animals are treated ethically and the sanctuary not treated as a money making petting zoo of sorts. Thankfully, the one we visited seemed alright. Visitors were not allowed to touch these fascinating nocturnal animals. Most appeared to be peacefully snoozing as they ought to be during daytime. We only saw a couple with their eyes wide open. That said they do make absolutely great photo ops ( don't forget to turn off the flash just in case).
The other place we chanced upon in inland Loboc was Nuts Huts. You usually pass it on the popular river cruises that take you to the two small waterfalls. You can either hire a boat to get you there or alternately get there by road. it is on the way to the chocolate hills but is quite a strenuous drive away through unpaved dirt tracks in the direction of the river. Constructed at an elevation, Nuts huts is also a great place to stay. They have both rooms and dorm style accommodation. And to boot its highlight is a cosy little restaurant that commands a brilliant view of the river and its forested surroundings.
While we didn't stay here, we did have a fabulous lunch, got ourselves a soothing herbal sauna and hired a kayak to paddle down to the waterfalls. Be careful though as you get closer to the waterfalls, the currents are strong here. You can pull up on a floating barge and tie your kayak to it to enjoy the view. On the sides of the river, locals sell banjos and other musical instruments.
Kayaking to the left of Nuts Huts takes you to a natural jacuzzi like spring by the side of the river. We stopped here for an absolutely free and natural soak before lazily paddling back downstream to Nuts Huts for a now well deserved beer in the midst of much natural beauty that almost all of Loboc seems to be steeped in!
How to get to Loboc
Loboc is a boat ride away from Cebu. There are also several direct flight connections from Manila to Tagbilaran in Loboc. With the advent of low cost airlines, air tickets are often quite inexpensive.
Feature image-Chocolate hills, Loboc. Image courtesy- PhotoRoman/Shutterstock.com