Here are some well thought travel tips for you ladies!
Why be scrutinized for wanting to stop to take a selfie next to something you think is cool or endure the guilt of wanting to walk into small boutiques that catch your eye?
Correct me if I'm wrong. Ladies, I don't think it is ever possible to enjoy a holiday to its fullest extent if you are traveling with anybody other than your girl pals, or better yet, alone!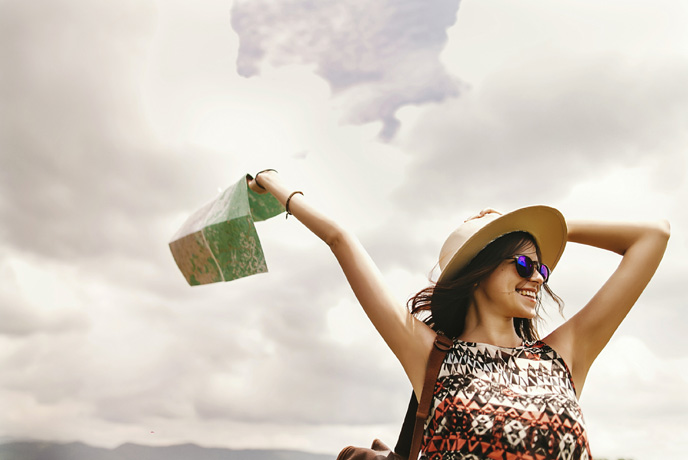 If you are traveling with your family, as in your mom and dad, you know that you have to contain your wild side. So there goes parting into the wee hours of the night. 
If you are traveling with your better half, let's face it, we try to play the dutiful role that we are traditionally accustomed to hold the fort down. That means dropping a big chunk of what we would concentrate on, had we been traveling alone.
Traveling as a mom is a whole new ball game altogether. Got young kids? Say no more. Your holiday is more likely to be just a change of location that coerces you to keep your shit together coz you are out in public while the kids drive you crazy. How is that different from every other day in your life?
Got pre-teens or teens? Sigh! Let's not kid ourselves now! You know the trip is more about keeping them out of trouble than you working up a tan that you can sport back home.
Yes, all of the above circumstances are a lot of work and no amount of writing will justify the extent to which the multiple roles you play in the lives of your loves ones drains you out. So if you have finally plucked up the courage to leave all this behind and invest on well deserved "me" time here is some food for thought.
Irrespective of whether or not we are on holiday there is one thing we can all relate to and that is the fact that we never seem to have enough clothes. Not having full access to my wardrobe is one of the biggest hurdles I power through while I am away and my husband's judgemental look at the sight of my suitcase and his argument on the economy of movement does not help to calm my nerves at all. While I pout and walk with my nose high up in the air for this very reason each time we travel, here is how I have made peace with what I know to be true.
Don't fail to embrace the holy grails of any travel wardrobe, the solid white/ black tee, and your jeans. You can't go wrong with these options and they are sure to come on handy on days you would be in two minds about what to sport. Needless to say, these staples work with just about anything you own.
Pack for the climate you are traveling to, also keep in mind to reach out for something that won't wrinkle easy. Denim and leather are the best options to travel with coz, unlike the others they look better when wrinkled.
Opt for complimenting color schemes
Do not do the mistake of setting up outfits that are vastly different from each other. Instead, try outlooks that will share clothing items so it will cut down on the number of clothes that you would feel like you have to include in your capsule wardrobe.
Ya! Ya! I know. I have trouble with it myself. 
Here is what I have learned, more tops or more jeans are not always what makes up for the probability of an outfit that stands out. Accessories such as scarfs, sunglasses, and jewelry are way lighter and take a fraction of the space that will take to accommodate another piece of clothing. They can also brighten up any look you put together. Additional tip: opt for something that compliments many color pallets so you can pair them up with different looks.
Stick to items that make you feel good
While it is good to try out new looks may be out on a holiday is not the best time for it. Not looking great is likely to make you shy away from photos and also maybe brood.so pick out the "feel good" items that you know you will ease into comfortably.
Did it seem shallow that the first thing that I'd want to talk about is "what to wear"? Since we have that out of the way let's talk about things that really matter. I mean really really matter.
While I'm all in for you to spread your wings and literally fly solo, here are few things to keep in mind to ensure your well-being and safety. Both, which are far more important than whether or not you are fashion ready for the excitement that awaits you.
There are things to be verified before, on arrival and during your stay. Read up on the geographical and historical layers of the land that will give you an insight into what to expect.
While they are surely embracing the norms of the western world, many countries in the east are accustomed to certain traditions that are reinforced by both religion and culture that call out for ways and limitations that you might not be familiar with. My advice to you? As a solo traveler it is best to blend in with the crowd rather than being in the limelight. This will allow you to experience the most authentic version of the destination you are holidaying in while you do not call out for undue attention to yourself. Remember while exploring and making new memories are the objective of your trip you will only be able to do so if you prioritize your safety.
On arrival, choose to secure lodging in a relatively populated area with convenient access to emergency services such as hospitals and the local authorities and most importantly the consulate so you are able to contact the home base at any given point. In the event that you extend your holiday into more remote areas do not fail to have a GSM mobile phone powered through a local network in order to keep in touch with friends and family which will also serve as a precautionary measure of safety.
What you carry and how much of it you carry during your stay is also vital for your safety. In terms of physical of any form of currency and other valuables such as electronic items or items you have purchased during your travels, try to carry light. It helps to operate from a centralized location and make short trips to any other specific location you want to visit. While it may sound like a lot of work, I choose to be safe than sorry. Always keep your travel document secured away and have backup finances such as an additional ATM to get by financially in case that you would misplace or have your wallet stolen. That's right I am not going to be sugar-coating anything for you and trust me having your wallet stolen is the least of your concerns in a land unfamiliar to you.
People are neither good nor bad but yes they are definitely opportunistic. So the confidence in you will play a big role in whether or not you will be gullible for them to prey on. That's right. Do not over a trust or overly depend on anyone you meet during your travels unless they are agents of a reputed service provider. Even then listen to your gut instinct and if you see any signs of red flags. Abort! Pronto!
There are times you might miss the folks back home and try to connect with somebody you meet along the way. But remember you can never be too careful and have everything to lose in the event this friendship goes south. So tread with caution!
If all this may seem little overwhelming to you, here is one other option you can consider. Choose a travel destination in which somebody you can count of resides in. That's right, lets start off with baby steps and you can gradually work up to take your first back packing trip across the world. This way you will have a peace of mind during your holiday and can even ask your host to show you a round. This way not only will you experience a new place but also be able to catch up with your friend/ family member.
Go on, do this for yourself. Not only will you survive, you will thrive!