Having an idea to take up a beach vacation this summer? Then this one's for you! The US is one of the most geographically diverse countries on the planet. From dense and vast deserts in the southwest to the plains in the Midwest. Its coastline ranges up-to 12,383 miles, which leads to a huge number of beaches in each region adding an extra essence to the beauty of the country. Those who are living in the US, you need not go far away to another place to joy the sand and seashores. Here are the Top 7 most beautiful beaches in the US.
Ditch Plains Beach, New York
The Ditch plains beach is located on the Montauk Peninsula, New York. This beach is known for surfing, bodyboarding, boogie boarding, and swimming. The area for surfing is quite small, as the town of East Hampton prohibits surfing within 250 feet of a designated swimming area. This beach is so pretty with smooth waves, pretty dunes. Because of its smooth waves, this beach is ideal for beginner surfers where you can opt for surf lessons and board rentals. You will need a town beach parking sticker to park here. Summer weekends are fully jam-packed, so it is ideal to visit during weekdays. You can also visit the nearby villages alongside the beaches. They are very beautiful and less crowded.
Baker Beach, San Francisco
The Baker beach lies on the shore of the Pacific Ocean, on the peninsula of San Francisco, California. This is a public beach and is only a half a mile long, starting from the south of Golden Gate Point. This Beach derived its name from the person named John Henry Baker, who settled the 160-acre property known as the Golden Gate Milk Ranch. Large crops of serpentine cliffs occur along the Pacific coast near baker beach. Rising from the land surface, serpentine produces low calcium, high-magnesium soil that allows rare species of plants to develop. Just north of the main parking lot is the Battery Chamberlin located, a large historic military gun installation that was built in 1904. The main activities at this beach are fishing, sunbathing, walking, and hiking. However, the entire baker beach is unsafe for swimming because of cold water and frequent rip currents in the surf.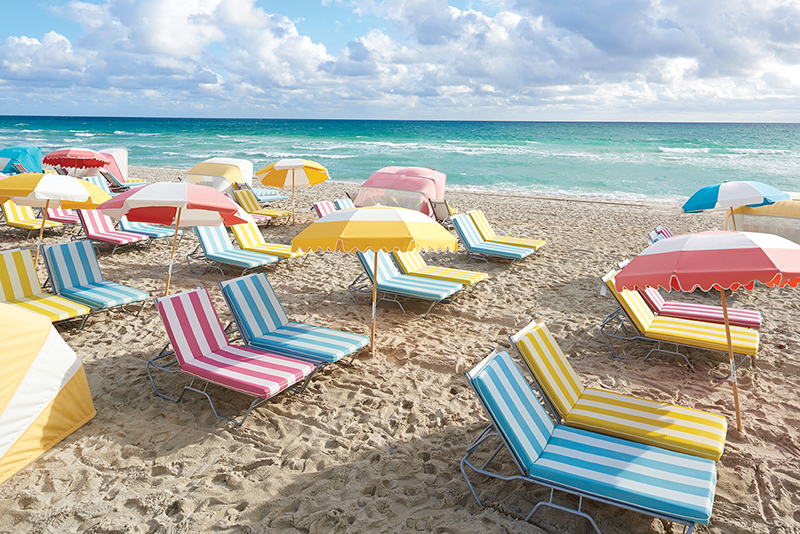 The Mid-beach of Miami is an area with an eclectic neighborhood all its own including Oceanfront, Bay Shore, and Nautilus. It is a section of the city of Miami Beach, Florida. This mid beach covers the portion of the city which starts from 23rd street from the north, the Indian Greek and south of Surprise Lake, and 63rd street. One of the famous buildings in the oceanfront is the Fontainebleau hotel, where you can experience late-night clubbing the Miami way. You can also find a bounty of incredible restaurants, nightlife, attractions, and renowned sandy beaches. Famous America's best hotel bar is a not-to-miss spot, where you can get excellent handcrafted cocktails made by a master mixologist. Also, beware to swim only at lifeguard protected beaches with designated swimming areas. Stay alert, look for colored flags, and check local weather conditions.
The Sand Harbor beach is a large sandy beach that covers 55 acres. This beach is known for activities like a nature trail, boat launch, and has picnicking facilities. This place is famously known for its Lake Tahoe Shakespeare festival. The Sand Harbor beach is a big stretch of sand with lots of nooks and crannies along with a bunch of smooth boulders to clamber around on this is a great family beach. This gently sloping beach is ideal for swimming and the crystal clear water makes it perfect for snorkeling and scuba diving. During summer, Sand Harbor features a visitor center and gift shop, snack bar and grill, and a group area for up to 100 guests. Families who visit this beach enjoy and love the shaded picnic areas with tables and barbecues. 
This is an ideal location for both relaxation and recreation while you absorb all the natural beauty. Snow-capped mountains and towering pines surround you on the shoreline as the sounds of summer create a sensory-filled 3D experience.
Singing Beach, Massachusetts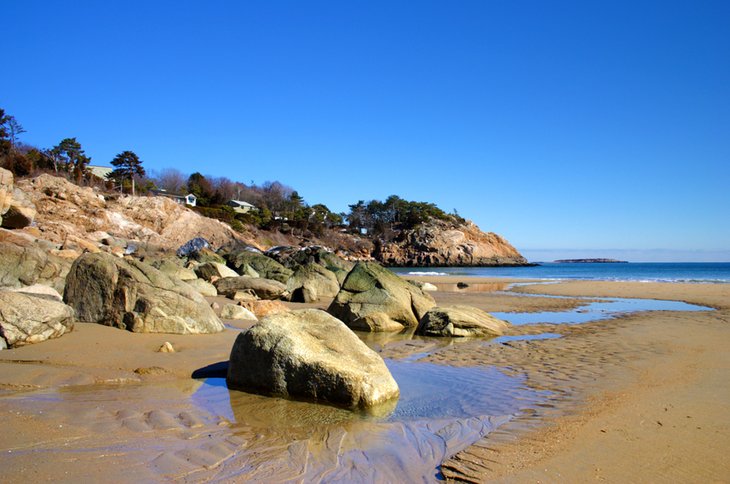 Singing beach is just shy of a half-mile wide. This beach derived its name because of the singing sand, also called whistling sand or barking sand. This sound emission is caused by wind passing over dunes or by walking on the sand. For this sound to be produced, the sand grains have to be round and between 0.1 and 0.5mm in diameter. The Sand has to contain silica and needs to be at a certain humidity. The most common frequency emitted seems to be close to 450Hz. There are other suggestions that the frequency of vibration is related to the thickness of the dry surface layer of sand. The bathhouse was built in the early 1920s and features a small canteen/snack stand which is privately run. The parking lot features 120 parking spaces. Rubber rafts, wind surfers, kayaks, artificial floats, skim boards, boogie boards are prohibited. Climbing and diving off of rocks and island swimming are strictly prohibited. Boats must remain 100 feet outside of the designated swim area.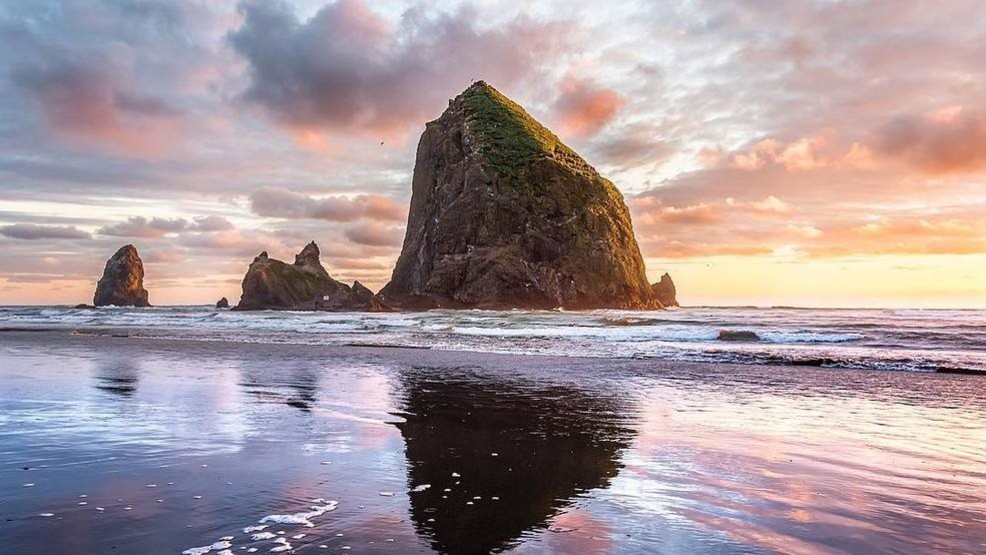 Cannon beach is known for its long, sandy shore. It is a small coastal city in northwest Oregon. Standing tall amidst the ocean, Haystack Rock is a seasonal haven for tufted puffins. The Haystack Rock is 235 feet sea stack that juts out along the Pacific coast. In 2013, National Geographic listed Cannon beach as "one of the world's 100 most beautiful places". Cannon beach is a tourist resort destination. This beach is particularly known as a weekend getaway spot for residents and tourists of the city. In June, the city hosts an annual sandcastle building contest.
The city also hosts an annual Fourth of July parade. Parades in recent years have featured a military flyover and a "Lawn Chair Brigade". This beach is accessible at low tide, especially in the summertime. There is also a small cave system that penetrates the rock and can be seen from the coastline. The town of cannon beach is really cute, with candy shops, restaurants, and art galleries.
Duke Kahanamoku Beach, Oahu, Hawaii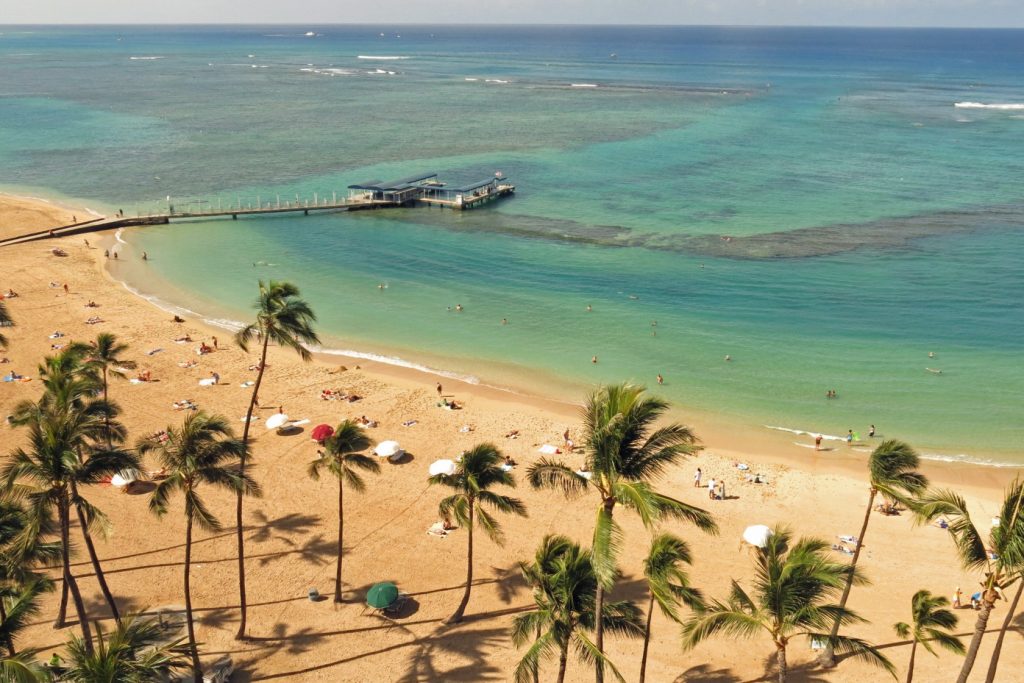 This beach in Hawaii is named after the former Olympian, Duke Kahanamoku. He is perhaps the most remembered and respected Hawaiian surfer, a champion Olympic swimmer, and a master of canoeing. He epitomized Hawaiian athleticism and helped the surf sport reach greater heights and earn popularity worldwide. This is why he is also known as the "Father of Modern Surfing". The Kahanamoku beach is the widest stretch of Waikiki Beach. The man made 5 acre Duke Kahanamoku Lagoon is also a fun place to explore, especially when you travel with your kids. Here you are allowed to swim in calm waters or picnic on the grassy area under one of the palm trees. The Hilton pier is located at the center of Kahanamoku beach, where Atlantis Submarine tours usually depart. Swimming, sunbathing, stand-up paddle boarding, kayaking, and paddleboating are some of the popular activities that can be enjoyed and are available on a rental basis. There are even boat charters from the nearby boat pier and a surf school that offers lessons outside the break wall.