Florida is the southeasternmost United States, with the Atlantic on one side and the Gulf of Mexico on the other. It has hundreds of miles of beaches. The city of Miami is known for its Latin-American cultural influences and notable arts scene, as well as its nightlife, especially in upscale South Beach Orlando is famed for theme parks, including Walt Disney World.
Panama City Beach is a resort town in the bay country, Florida, United States, on the Gulf of Mexico coast. As of the 2010 census, it had a population of 12,018. The city is often referred to under the umbrella term of "Panama City". St Andrews State Park, one of 2 protected nature preserves nearby, is bordered by the gulf and has hiking trails and fishing piers. Pier Park is the main shopping hub and a venue for major events. Panama City Beach's slogan is "The world's most beautiful beaches" due to the unique, sugar-white sandy beaches of northwest Florida.

Panama City Beach has been a popular vacation destination, especially among people in the Southern United States. The city is also a very popular spring break destination, due to the popularity of the beach and its proximity to most of the southern United States, and relative proximity as a drive destination for the Midwest. The MTV show Floribama shore was set in the city- Filming took place over the summer.

Panama City Beach is a spring break rite of passage. More than 8 miles of sparkling sand attracts party bookers of all kinds. Spend your days with a drink in hand as you stroll down the beach, stopping at bars and restaurants, pre-gaming for the night ahead. Sharky's beachfront restaurant plays into the tropical theme with cabana decor and watermelon bowl drinks. Harpoon Harry's pour frozen drank in a centralized location, drawing in a younger crowd. At night most people flock to Club La Vela, tiki bar, or spinnaker Beach club for live music.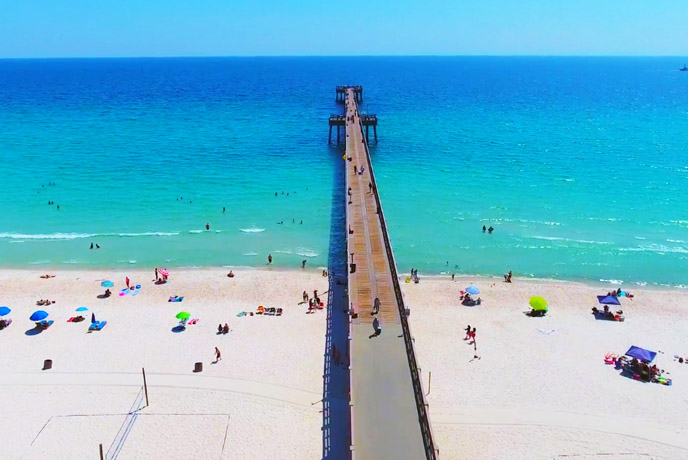 BEST IN PANAMA CITY BEACH FAMILY – AMUSEMENT PARK
The best value in Panama City beach. Home to the only rollercoaster and fastest, tallest, steepest go Kart tracks in Panama City beach. Indoor mini-golf, Thrill Rides, an indoor mega arcade, and much more!
Miami Beach is a south Florida island city, connected by bridges mainland Miami. The wide beaches stretch from North Shore open space Park, past palm-lined Lummus Park to south pointe park. The southern end, south beach, is known for its international cachet with models and celebrities, and its early 20th-century architecture in the Art Deco Historic district with pastel-colored buildings, especially on Ocean Drive.

Miami Beach is a coastal resort city in Miami-Dade Country, Florida, and the United States. It was incorporated on March 26, 1915. The municipality is located on natural and man-made barrier islands between the Atlantic Ocean and Biscayne Bay, the latter of which separates the beach from the mainland city of Miami. The neighborhood of south beach, comprising the southernmost 2.5 square miles (6.5 km) of Miami Beach, along with downtown Miami and the Port of Miami, collectively form the commercial center of South Florida. Miami Beach's estimated population is 92, 307 according to the most recent United States census estimates. Miami Beach is the 26th largest city in Florida based on official 2017 estimates from the US Census Bureau. It has been one of America's pre-eminent beach resorts since the early 20th century.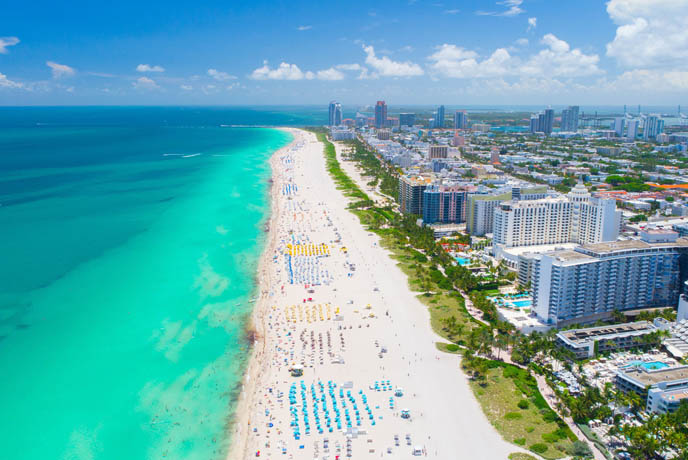 BEST IN MIAMI BEACH
Miami Seaquarium
Miami Science Museum
Bayside Marketplace
Jungle Island
Miami has known across the globe for its glitz and glamour and its beaches and sunny weather. Miami is a city that will capture you with its dazzling glamour and hold you in its spell. The beauty of the city's nature will also steal your heart from Biscayne Bay and the clear blue South Florida skies. Miami is glamour first and foremost but spend a little time here and dig a little deeper to see what is under the surface. Or simply go with the flow and indulge in glamour in true Miami style.
Pensacola Beach is a Florida resort community on the Gulf Coast barrier island of Santa Rosa. Sugar White-sand beaches include Opal beach, part of Gulf Islands National Seashore. Pensacola Beach Boardwalk has shops. Eateries and, nearby the Pensacola Beach Pier Stretches into the Gulf of Mexico. Both are on the Pensacola Beach Eco-Trail, which spotlight local wildlife such as sea turtles. West is the 1834 Fort Pickens.

Pensacola Beach's mild temperature and crystal clear water draw beach lovers, fishing enthusiasts and environmentalists alike. Anchored at the western tip of Florida, this barries island offers you a range of experience. From lively crowds at its lifeguarded main beaches to the quiet, secluded beaches of Gulf Islands National seashore and the corridors of historic Fort Pickensx, you're sure to find your perfect spot in the sand.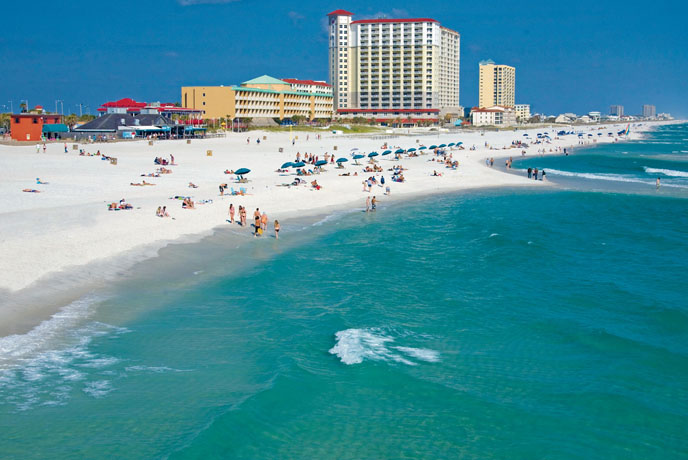 BEST IN PENSACOLA BEACH
Dolphin Tours
Dive or Snorkel
Surfing and paddle boarding
Beach Cams
Laid-back Clearwater Beach is known for its namesake stretch of soft, white sand, which draws visitors year-round for jet-skiing, parasailing, and stand-up paddleboarding in its calm waters. Cyclists and rollerbladers glide along a winding beachfront promenade lined with casual seafood restaurants and cafes. Come sunset, pier 60 hosts a nightly festival with street performers and craft vendors.

Clearwater Beach includes a resort area and a residential area on the Gulf of Mexico in Pinellas country on the west-central coast of Florida. Located just west over the Intracoastal Waterway by way of the Clearwater Memorial Causeway from the city of Clearwater, Florida. It has a full marina on the Intracoastal Waterway side and is linked on the south by a short bridge to another barrier island called a sand key.

Clearwater has frequently been ranked as one of the best beaches in the United States. The area offers shopping, restaurants, and activities such as parasailing, Jet Ski rentals, boat tours, miniature golf, fishing charters, and pirate ship cruises.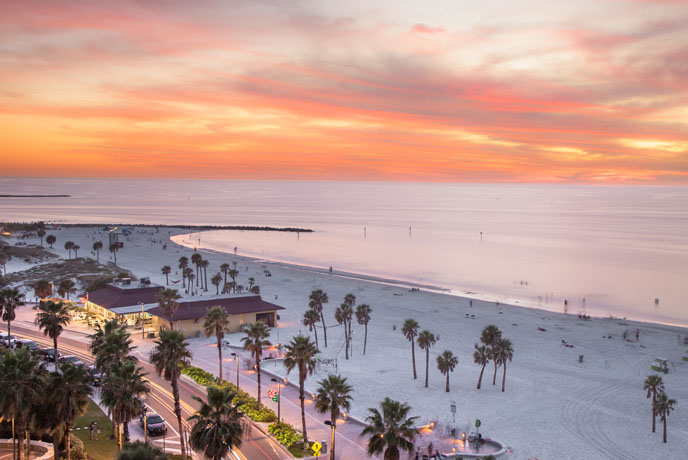 BEST IN CLEARWATER BEACH
Pier 60
Island Way
Mandalay Park
Congo River Golf
Siesta Key is a barrier island in the Gulf of Mexico, off the coast of Sarasota, Florida. It's known for its sandy beaches. Siesta Beach, near the shop and cafes of siesta key village, has shallow waters, a playground, and tennis courts. Crescent Beach offers access to Point of Rocks, limestone outcroppings that surround tidal pools, and coral reefs. To the south, Turtle Beach has boat ramps and picnic areas.
A short from downtown Sarasota. Siesta Key sits adjacent to the glittering Gulf of Mexico and its siesta public beach has been named the nation's best twice. This quaint yet quirky 8-mile long island offers shopping, resorts, dining, and nightlife. Known for its brilliant quartz sand. Turquoise waters and many beachside amenities. Siesta key is a must-visit island paradise. The Siesta Key offers something for everyone. Siesta Key is a romantic getaway for lovers, a family vacation destination and a playground for active sports enthusiasts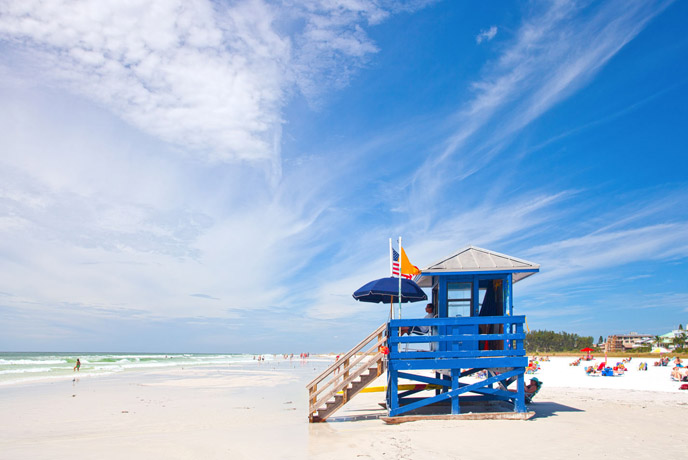 BEST IN SIESTA KEY BEACH
Fisherman's Cove
Siesta Key Chamber of Commerce